Critical care equipment donated to Alexandra Hospital in memory of seven year old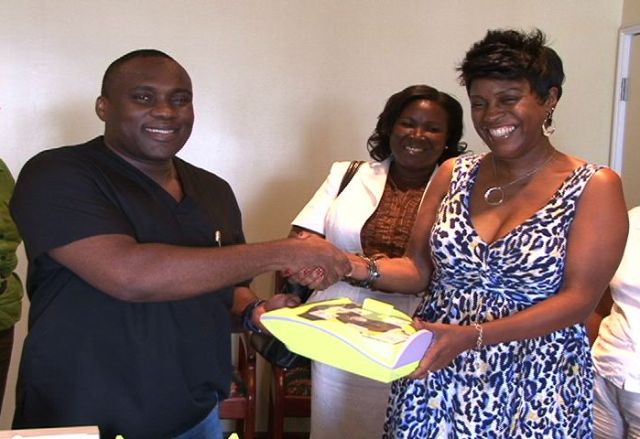 NIA CHARLESTOWN NEVIS (October 30, 2012) — The memory of seven year old Keyon Welcome from St. Kitts who passed away in Nevis just over one year ago under tragic circumstances, will be forever be remembered in the annals of the Alexandra Hospital, thanks to a gift of critical care equipment made to the island's main health facility in his honour.
A portable defibrillator was presented to Medical Chief of Staff at the Alexandra Hospital Dr. John Essien by daughter of Mrs. Joan Broadbelt Robinson, Ms. Jewel Broadbelt at a brief touching ceremony at the facility's conference room on October 26, 2012. The gesture was made on behalf of the Broadbelt, Queeley and Welcome families in St. Kitts in memory of Keyon.
"My mother was so impressed with Keyon, a little boy of seven years of age who she observed brought children and adults together with love. When she arrived at the church the day of the funeral, she observed that a dove was looking down at the people attending and at that time she knew that she had to do something to carry on the love that everyone felt for little Keyon and the love that he gave to them when he was here on earth.
"It is my pleasure therefore to make this contribution of this defibrillator to the Alexandra Hospital the first in a series of many more to come in an effort to give back to our ancestral home Nevis in honour of little Keyon Welcome. It is my hope that this piece of equipment would be put to full use and that it would serve to save many lives," she said.
Ms. Broadbelt noted that a second defibrillator would be donated to the Hospital in December but this time it would be equipment designed specifically for children.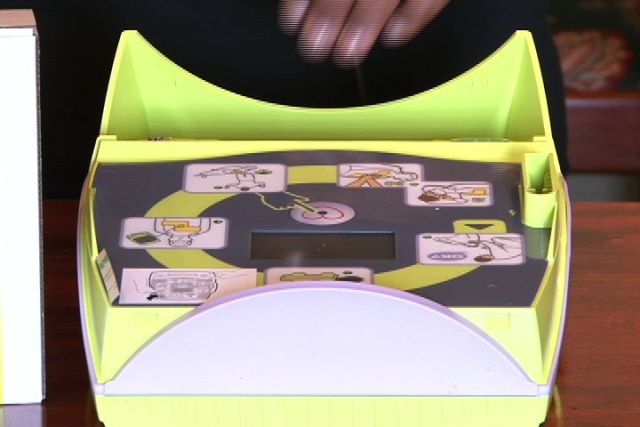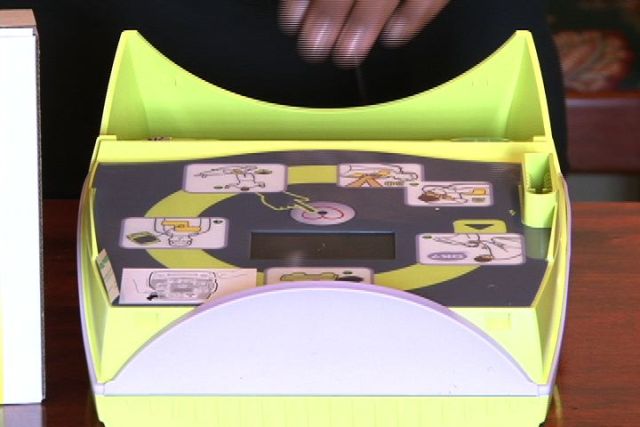 She also registered satisfaction with the Nevis Island Administration for its continued strides in the advancement of the population's health and pledged her family's support in the endeavour.
"I would also wish to thank the Nevis Island Administration for their efforts in advancing a healthy nation and I hereby pledge my family's support in doing whatever we can by giving back to our ancestral home, the place that would have been the foundation on which our lives as responsible citizens was moulded.
"May God bless you all and the people of Nevis and I urge you to continue the great work that you are doing for the benefit of all the residents of this beautiful island," she said.
In response, Dr. Essien stated that he was touched by the Families gesture and spoke to the importance of the equipment in the delivery of emergency care.
"This defibrillator is essential equipment in emergency care, especially when it comes to the resuscitation of reviving of people who have suffered heart stoppage.
"It's a portable unit and we would be locating this equipment in our mobile emergency units, the ambulances and we sincerely hope we don't have to use it but in case the situation arises, we would have the confidence of having one very, very close by," he said.
While the Medical Chief of Staff at the Alexandra Hospital thanked the Broadbelt, Queely and Welcome families for the gesture, he urged other partners in the community to continue to work with the island's main health facility as it strived for a better and healthy nation.
Also present were members of the families, Matron at the Alexandra Hospital Aldris Dias and other health personnel.