UK based Nevisian Family donates to the Flamboyant Nursing Home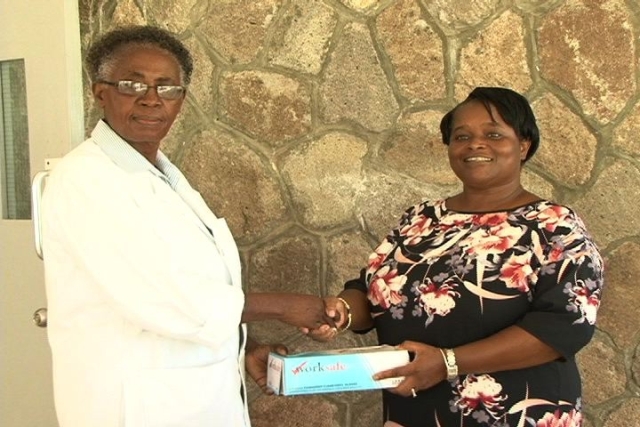 NIA CHARLESTOWN NEVIS (October 29, 2012) — The Flamboyant Nursing Home on Nevis continued to receive gifts from Nevisians based overseas, when members of the Byron Family in the United Kingdom presented a donation of toiletries and personal health care items to the facility on October 26, 2012.
Representative for the group Ms. Earlene Byron during the presentation to the Facility's Nurse Manager Ms. Ena Sutton explained that she often thought of making a donation to the Home but never took the necessary action. However the opportunity came earlier this year when a family member who was an employee there, was visiting from Nevis.
"One of the persons who work here Pammy, my cousin, she came to England this year and I thought, you know what, let me just ask her the question what would they like? And she told me a few things. So quickly we got it together… Usually it is an organisation but it is a few of us that did this.
"So we want to make this donation to the residents of the Flamboyant Home for their use and we pray that they are going to be used. We've got soap, incontinent pads, powder, cream, gloves… What we are planning to do is to make it something yearly and we would be asking you what sort of things you like within reason of course," she said.
According to Ms. Byron, the family members who made the donation possible were Lavern Byron, Shekinah Byron, Kenish Byron, Semitta Gumbs, Venetta Gumbs, Georgina Taylor, Rosalie Webbe, Romita Hanley and Shirlene Brotherson.
Meantime, in response the Head Nurse thanked the donors for their thoughtfulness of the residents particularly in the practical way they did and assured that the items would be used in the delivery of care to them.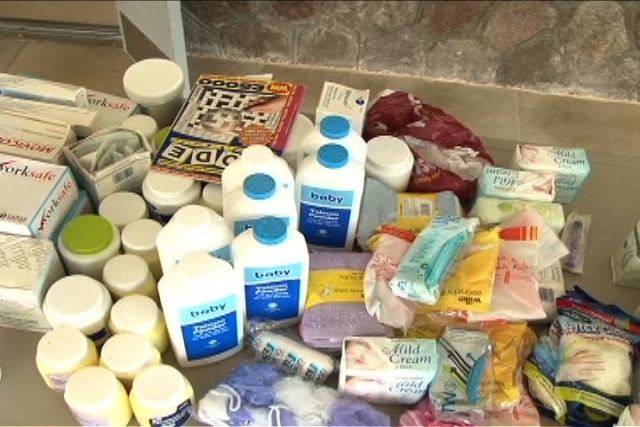 "As you wish I want to promise you that they will be used to give care to our residents here.
"This week we are celebrating the Week of the Elderly and so I don't think it is by coincidence that your gifts have come at this time. So I want to thank you again very much and believe me, believe all of us here, that they will be used to enhance the quality of care that we deliver at this Flamboyant Nursing Home," she said.
Earlier in the week, the Home had received gifts from another Nevisian overseas in United States of America.