Debt restructuring will help realign Nevis' economy" says Parry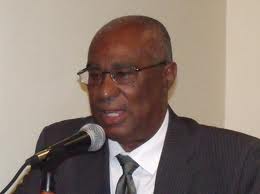 Charlestown, Nevis (Wednesday, April 4th, 2012)  Premier of Nevis, and Minister of Finance, the Hon. Joseph Parry, says that his administration is taking the process of debt restructuring very seriously, as that is one of the ways it will be able to realign the island's economy. He also made an appeal to Nevisians to take the process seriously as well.
"One of the things that struck me, is that we have some very serious issues at hand that we really need to be tackling as a nation, and the debt restructuring is one of those, and how we realign our economy again," said the Premier.
Premier Parry, who was speaking to the issue of debt restructuring during the Tuesday, April 3 edition of his weekly live radio program "In Touch With the Premier" hosted by Press Secretary Ms. Deli Caines on Choice 105.3 FM out of Nevis and other radio stations in the Federation, lamented that it appeared as if some people had lost their way, and were behaving as if Nevis was not going through a serious period of economic challenge.
"Maybe it is good for politicians, because sometimes you give them fodder to deal with, and the real issues are ignored," said the Premier. "The real issue right now is the debt restructuring, and I want to say that we are making serious progress. Of course, I do not want to give the impression that Nevis is going through debt restructuring alone."
He outlined that the Administration is not only being helped by the Federal Government, but some of the major inputs are made by the White Oak people. He added that the Ministry of Finance in Nevis is being consulted on a regular basis, and was as a result moving every step of the way, and making considerable progress without hurting the people too terribly.
"I must indicate that with the debt restructuring, we anticipate that some loaning agencies may not want to lend us money for a while," advised the Premier. "So we will have to find ways and means of balancing our budget, and doing the kind of long term work that is necessary. It is going to take a great effort. It is going to take funds. We are already working on that part of the continuing development of the economy."
Premier Parry, who also holds the Ministry of Education portfolio also disclosed Tuesday that the last installment of the One-to-One Laptop Program, which saw all students in the first to third forms in the two public and one private secondary schools receive their laptops, has made the students and their parents very happy, and thankful to the Nevis Island Administration and the Federal Government.
He told his listeners how one parent accosted him, and said to him (Premier) that his children never had access to computers before, but they are now proud owners of their own computers. "That was so pleasing a statement to me, now they have their own. I understand this last set (of laptop computers) is even better than those before." said the Premier
He revealed that there were plans to establish centers in the two public secondary schools, where students could log into the Internet, and use their computers for free. A similar feature is earmarked for the community centers around the island where students could go and use their laptop computers to do their homework.