December 11th is VCT Day in SKN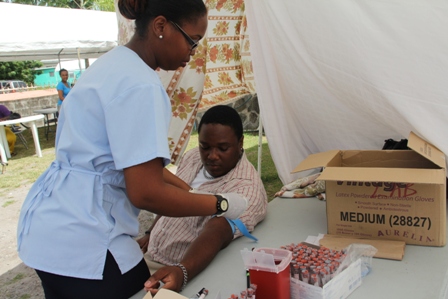 NIA CHARLESTOWN NEVIS (December 11, 2013) — Residents of and visitors to St. Kitts and Nevis (SKN) are, today, being encouraged to "know their status." In Nevis, the Island Administration's Ministry of Health, through its Health Promotion Unit, is hosting its annual Voluntary Counseling and Testing (VCT) Day.
VCT Day allows for persons to receive free counseling and HIV/AIDS testing from qualified persons within the island's health services sector.
In speaking, earlier today, with representatives of the Health Promotion Unit, the Department of Information learnt that today's counseling and testing exercise is being held at the Health Promotion Unit on Jews Street and will run until 4:00 pm.
Today's event forms part of the Ministry of Health's activities that commemorate World AIDS Day 2013 which was observed on December 1st under the theme "Getting to Zero."
A major highlight of the annual event has been the delivery of same day test results.
Representatives from the Federal Ministry of Health are expected to be carrying out a similar exercise on sister island St. Kitts.