Persons serving the Nevis Island Assembly in 30-year history recognised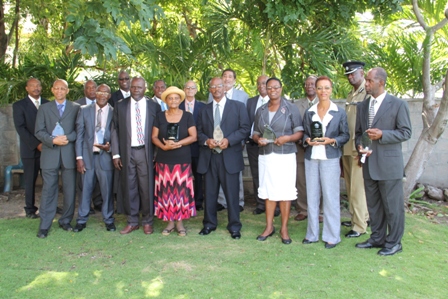 NIA CHARLESTOWN NEVIS (DECEMBER 10, 2013) – A number of persons who served the Nevis Island Assembly over the last 30 years, were recognised at a special sitting at the Assembly Chambers, Hamilton House on Hunkins Drive on December 10, 2013, 30 years to the day when the first Assembly was held on Nevis.
Among those who received awards in recognition of their service and dedication to the Assembly were Dr. Simeon Daniel, Ivor Stevens, Arthur Evelyn, Ural Swanston, Levi Morton, Julian Nisbett, Victor Jay Martin, Julian Nisbett, Fred Parris, Berlyn Clarke, Malcolm Guishard, Leonard Small, Franklyn Brand, Colin Tyrell, Phinehas Griffin, Laughton Brandy, Jean Harris, Spencer Bryon, Marjorie Morton, Christine Springette, Pearlivan Wilkin, St. Clair Wallace, Dwight Morton, Herman Liburd, Lynell Nolan, Michael Perkins, Livingston Herbert, Dwight Cozier, Oban Lawrence.
Also awarded were Premier of Nevis Hon. Vance Amory, serving President Hon. Farrell Smithen, Deputy Governor General His. Honour Eustace John, the St. Kitts Nevis Royal St. Christopher and Nevis Police Force and Leader of the Opposition on Nevis Hon. Joseph Parry.
Hon. Farrell Smithen, during his opening statements at the special sitting, shared the historical significance of the inception of the Assembly and recalled the persons who contributed to its existence.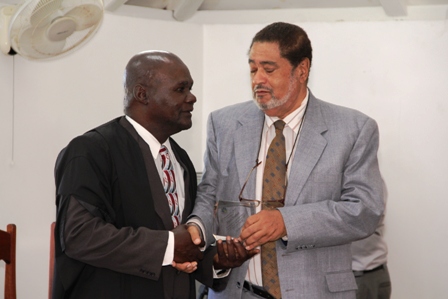 "I wish to take us back some 30 years ago on December 10th 1983, when this body, the Nevis Island Assembly started…Certainly for some of us, if not most of us, that day came through hard work, perseverance, the will to put Nevis on the map and to do whatever was needed to achieve the Nevisian spirit. Those persons who have paved the way for us and who are no longer with us, today, we as Nevisians [should] always… mention them in our prayers," he said.
Mr. Smithen encouraged the awardees to view the recognition plaques as a symbol of appreciation for their contribution to the Nevis Island Assembly.
"Today we would be highlighting through the form of awarding of plaques for those past parliamentarian, clerks, presiding officers who would have paved the way over the years…For those of you who will be receiving plaques, look at it as a token to show the appreciation of this Assembly for the work that you have done over the years. We here at the Nevis Island Assembly are grateful for your contribution," he said.
Other statements came from Hon. Vance Amory and Hon. Joseph Parry while Former President of the House Mrs. Marjorie Morton gave a response on behalf of the awardees.