Deputy Governor General on Nevis celebrates with Celian "Martin" Powell, Federation's oldest living person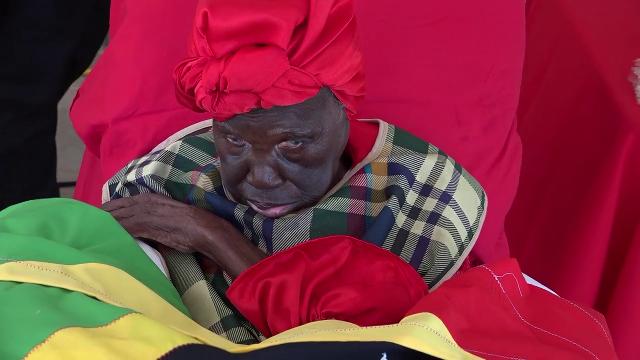 NIA CHARLESTOWN NEVIS (January 21, 2019) — Ms. Celian "Martin" Powell, born in Zion Village in 1912 and the oldest living person in St. Kitts and Nevis, was celebrated on her 107th birthday by family and friends at a ceremony on January 09, 2019, at her residence at the Flamboyant Nursing Home.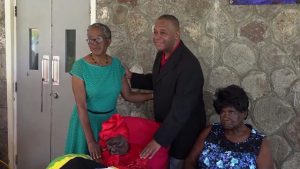 Her Excellency, Hyleta Liburd, Deputy Governor General on Nevis who was present at the celebration noted that Ms. Powell, who she knew since she was little meant a lot to her, and thanked the celebrant's family for taking care of her.
"It is a real pleasure for me to be here this morning to give honour to our dear friend Ms. Powell. Ms. Powell goes back in my mind since I was quite a child attending the New River School so for me she means quite a lot.
"I thank God that I have seen her grow, blossom, work. I've heard her speak and gotten some of her wisdom, and I am so happy to have been associated with her, and this morning I just bless God for her in our lives…May God continue to bless you and touch you, and to all of the members of the family, kudos, you have done a great job," she said.
Meantime, Hon. Eric Evelyn, Minister of Social Development who was also present, said he believes Ms. Powell's longevity is a blessing.
"God has blessed her with very, very, very long life and there has to be a reason why she has lived to see 107. I'm sure she must have been a fantastic example to her children, to her relatives, to her friends, to the community of Zion, Gingerland of course, and Nevis as well and this is someone that we should indeed emulate.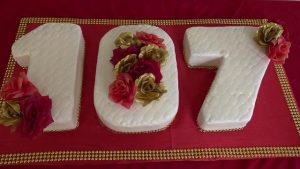 "God has kept her for a reason. He has been merciful to her. He has given her his grace and it must have been because she has done something or many things good in her years prior to being 107," he said.
The minister thanked all those continue to care for the celebrated centenarian.
"I would also like to say thank you to the management and staff here at the Flamboyant Home for doing a magnificent job with her, and to the family members, in particular, those who reside on Nevis for the magnificent job, and I also want to pay homage to you the family members who journey here year after year after year after year to celebrate with Martin Powell," he said.
Mr. Evelyn later presented a gift basket to the birthday celebrant on behalf of the Ministry of Social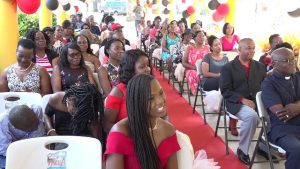 Development and the Department of Social Services.