Employment – top priority for Nevis Island Administration, says Premier Parry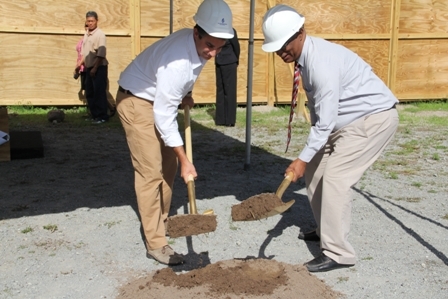 Charlestown,Nevis(Wednesday, October 3rd, 2012) —
Employment continues to be a top priority for the Nevis Reformation Party-led Nevis Island Administration, and the Premier and Minister of Labour, the Hon. Joseph Parry says his recent trip to Zürich, Switzerland has led to the ground-breaking of a US$60 million project at the Four Seasons Resort Estates (FSRE) which will bring over 300 jobs in the next few years to Nevis.
On Wednesday, October 3, 2012, Premier Parry said he has been planning for this day since he was given the favorable news in Zürich, when he was the special guest speaker at the Henley and Partners St. Kitts- Nevis Investment Seminar held there in June 2012.
"At the Seminar back in June, one person told me they were purchasing a property at the Estates and a number of others showed keen interest in buying property there too, I am very positive that even in these financially challenging times, Four Seasons Resort Estates will make tremendous sales," commented the Premier.
Developers of the FSRE have informed the Premier that in the next month or so 60 persons will be employed on one project, and an additional 50 persons will be working at another site.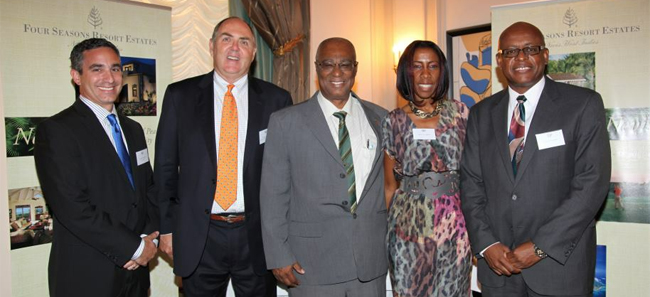 "At the peak of construction, 150 persons will be working in the area of construction at one site while another 150 persons will be employed at another site, which will make a total of 300 persons working over the next few years on the FSRE developments," said Premier Parry.
Vice President, Mr. David Cheltenham, said FSRE is committed to give back to the Nevis community, and said he is looking forward to supporting a number of local programs and schools on the island, and working with the Nevis Island Administration to develop an internship program which would give young people on the island job experience.
Four Seasons Resort Estates is an established and exclusive community where only a limited number of sites remain for discriminating investors. Each distinctively stylish Villa or Estate Home will be surrounded by far-reaching views and luscious gardens. Some will reflect the heritage of Nevis with touches of gingerbread style houses and louvered shutters. Others in the latest project offer an air of simple, contemporary sophistication. All accommodations will offer the luxurious comfort and relaxed style wanted by the exceptional buyer.