FSRE breaks ground for US$60 million villa development project in Nevis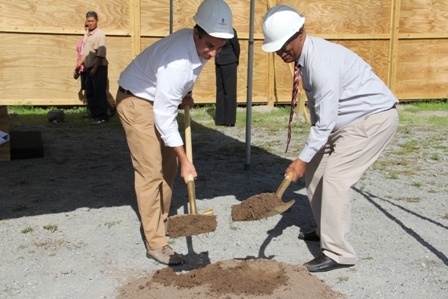 NIA CHARLESTOWN NEVIS (OCTOBER 03, 2012) —
Premier of Nevis and Minister of Finance in the Nevis Island Administration Hon. Joseph Parry welcomed the start of a US$60million project at Pinneys in Nevis, another investment by the Four Seasons Resort Estates (FSRE). His comment came on October 03, 2012 when he broke ground for the project simultaneously with FSRE's Vice President Mr. David Chekemian.
In brief remarks Mr. Parry was particularly pleased with employment opportunities the project would bring for hundreds of Nevisians and thanked the FSRE for their confidence in Nevis. He noted that the investment came at a time when the island, like the rest of the world, had suffered the effects of the world's worst recession since 1929.
"I understand that the site is about 15 acres of good quality property and on completion, you would have done 15 properties to the value of $60 million and that is a lot of money invested in a small place like Nevis.
"I also understand that in the next 30 days or so, you will be employing some 60 persons on this site and just for information, that there are already 50 other persons working on another site and at the peak of construction, you will have here 150 Nevisians working in the construction business and on the other site another 150 Nevisians early next year bringing it to a total of 300 Nevisians," he said.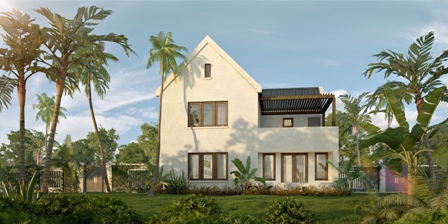 The Premier said he used the word Nevisians hesitantly since I use the word Nevisians hesitantly since there were other ongoing projects on Nevis and by the time the FSRE project reached its peak they would possible have to seek elsewhere for workers. He noted it was a great sign in the middle of a recession for near full employment on the island.
The Minister of Finance disclosed that although a number of persons were involved in the construction business, the sector had been the weakest in the economy for the past two years. He registered his satisfaction that it was returning to full capacity and was hopeful there would be further expansion in other parts of Nevis.
The Top NIA Official used the opportunity to urge workers to give of their best since FSRE had become known for its high quality construction work.
"I want to hope and expect that the workers would work well, do Nevis proud and would do your company proud. I do hope the owners, some of them I would have already met, would be satisfied and happy with the work and with the quality of life here on the island of Nevis," he said.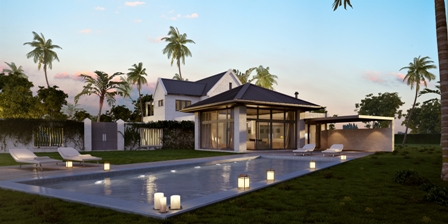 Notwithstanding, Mr. Parry said he was aware that FSRE's newest project was directly associated with an earlier trip to Zurich, Switzerland some months ago where he was invited to address the St. Kitts-Nevis Investor Seminar hosted by Henley & Partners and the Consulate-General of St. Kitts and Nevis in Zurich.
"My understanding is that this project directly is associated with the trip to Zurich a few months ago where you met a number of persons who had an interest in Nevis and in the Four Seasons property in particular. I can tell you that I was there and there was a heightened awareness and interest in Four Seasons and I am pleased to see that you have results so quickly and so immediately…
"I end by saying to you David congratulations for your hard work and may all of us be able to work with you and cooperate with you for your success and for the success of the island," he said.
Meantime, Mr. Chekemian in brief remarks, gave an overview of the Villas at Pinneys Beach project and its impact on Nevis.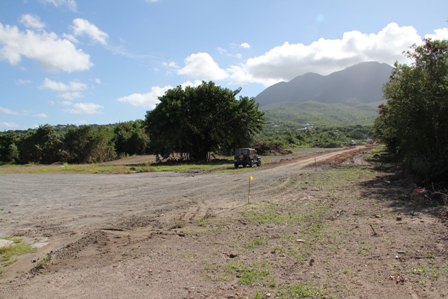 "This neighbourhood will be comprised of 15 three and four bedroom luxury villas. Each will be approximately 4,000 square feet in size with private gardens and pool. The total construction value of the project is US$60 million.
"The first phase of construction will begin in the next 30 days with the first three villas. We estimate the total build out time to be approximately 3.5 years. This initial phase of construction will generate over 60 direct and indirect jobs for the local workforce," he explained.
Mr. Chekemian added further that as a commitment to Nevis and its people, FSRE intended to take a portion of the revenue from the Villas at Pinneys Beach and future projects for investment in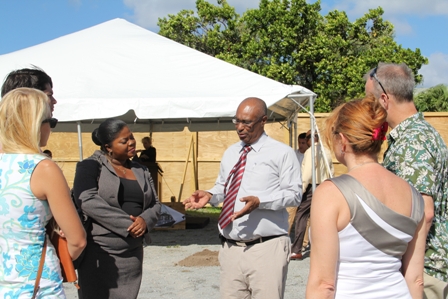 the children and youth of the island.
"We will look to sponsor organisations, clubs, programmes and school events. Additionally, over time we would like to create an apprentice programme in conjunction with the Nevis Island Administration to help students and young adults gain valuable on the job experience," he said.
The event was attended by officials of the NIA, Henley and Partners and FSRE staff.