Nevis to celebrate International Day for Disaster Reduction (IDDR)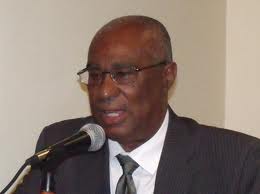 Charlestown, Nevis (Wednesday, October 3rd, 2012)–
Premier of Nevis, the Hon. Joseph Parry says he is pleased that Nevis will be participating in the celebration of the International Day for Disaster Reduction (IDDR) this year. By resolution 64/200 of Dec. 21, 2009 the United Nations (UN) General Assembly designated October 13 as the date to commemorate the Day, with its major objective being to raise awareness of how people are taking action to reduce their risk to disaster.
This year, however, IDDR will be observed by the United Nations International Strategy for Disaster Risk Reduction (UNISDR) on Friday, October 12, 2012, under the theme: "Women and Girls – the Invisible Force of Resilience".
"Women and girls are powerful agents of change because they have shown examples of their ability to manage disaster risks," said the Premier.
He elaborated that it is women who work heavily on poverty reduction, the environment and disaster risk reduction, and who have and will continue to shape the future of their families and communities.
IDDR is the most widely celebrated global day for raising awareness about what we can all do to reduce our risk to disasters such as hurricanes, earthquakes, floods, droughts, fires, and tsunamis.
In celebration of Disaster Reduction, month-long activities will take place on Nevis, including a Variety Concert at the Shiloh Baptist Church on Thursday, October 4 at 6:30pm, and a Panel Discussion on October 8, from 5:00 to 6:00 pm on Choice Community Radio 105.3 FM.
On Friday, October 12 at 3:30pm a March Pass has been planned from the Cultural Center to the Memorial Square, Charlestown. Free Step UP for Disaster Risk Reduction T-shirts will be provided to female participants.
The Nevis Disaster Management Department (NDMD) in conjunction with the Premier's Ministry and other stakeholders will honor the importance of the Disaster Reduction celebration in recognition of Women and Girls as the pillars of resilience within our communities.
Part of the aim is to further empower Women and Girls to fully contribute to sustainable development through disaster risk reduction, particularly in the areas of environmental and natural resource management; governance; and urban and land use planning and social and economic planning – the key drivers of disaster risk.