Federation's Top Educator urges Principals to seek divine intervention in their task to save the island's youths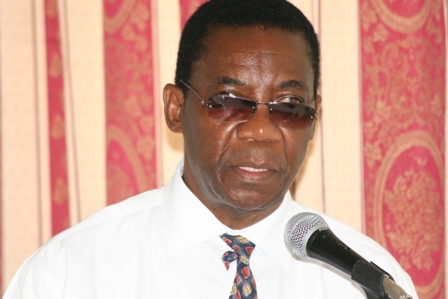 Chief Education Officer in the Federal Ministry of Education Dr. Patrick Welcome
CHARLESTOWN NEVIS (May 10, 2010) — The Federation's Top Educator called on school Principals in St. Kitts and Nevis, to seek divine intervention in their tasks as leaders in their various learning institutions, particularly when they felt helpless.
Chief Education Officer Dr. Patrick Welcome told the head teachers who were on Nevis to attend a one day workshop on Friday hosted by the St. Kitts Principals Association that in order to raise the standards, promote success in education, moved to identify the best practices and help the islands boys and girls, they had to collaborate and maximise resources.
"I know it is difficult to do it on your own and sometimes you are tired as leaders of your school, you don't know what to do. I want to say to you, that in that critical moment we can address God because he is always there so he can give us the extra energy, the extra idea because we can't do it alone. We understand how tired you are, how frustrated you are but you cannot give up now, you cannot give up on little boys and on little girls they will be taken over by the enemy and find themselves in drugs, find themselves with guns and find themselves in prison.
"We have a responsibility…to do what we can do to save our boys and girls and this document [the White Paper] gives us some clear directives where we should go as we endeavour to educate our nation to help everyone to be more productive and good citizens," he said.
Dr. Welcome told the participants that it could no longer be business as usual neither could they afford to be confrontational to the detriment of the Federation's young boys and girls. He applauded the St. Kitts Teachers Association for recognising the importance of uniting with their counterparts on Nevis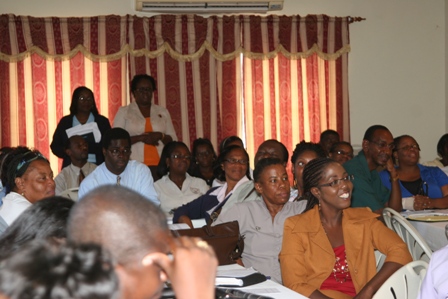 Principals from Nevis and St. Kitts at the Principals Workshop in Charlestown
"It means that as we come together, we agree on some practices, principles and procedures that we can all use as educators to help us to perform our duties well.
"We cannot afford to be confrontational while we continue to lose our boys and girls to the enemies of the world and so I want again to commend the principals because in recognising the changes in the system today, what we use to define as…today is quite different to that of yesterday. There are many distractions and disruptions and in order for us to grapple with these changes, we need to come together," he said.
The Top Education Officer pointed to the success Nevis had made in the education system citing that the move by the Principals to learn from the Nevis counterparts was important and the White Paper had called for collaboration.
He also commended Education Consultant on Nevis Dr. Bronte Gonsalves who he said had worked over the years to push the education system forward.
"She recognised early a clock that this meeting of minds is critical and she worked extremely hard to make today a successful day," he said.