Five member Nevis Reformation Party Cabinet to be sworn in Today following Local Election win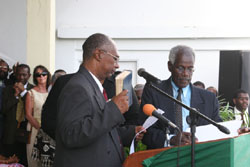 Premier of Nevis Designate, the Hon. Joseph Parry being sworn in July 2006 (File Photo)
Charlestown, Nevis–(Tuesday, July 12, 2011) The Swearing in of Ministers of the Government of the Nevis Reformation Party (NRP)- led Nevis Island Administration following the July 11th Local Elections, will take place on Tuesday, July 12th, 2011.
The Elquemedo Willett Park (formerly Grove Park) in Charlestown will be the venue for the keenly anticipated event. The ceremony will begin at 5pm sharp.
The newly elected Hon. Joseph Parry will be sworn in as Premier, the Hon. Hensley Daniel and the Hon. Robelto Hector will be sworn in as Ministers of Government while the Hon Carlisle Powell and Hon. Dwight Cozier will be sworn in as Junior Ministers.
Prime Minister of St. Kitts-Nevis, the Hon. Dr. Denzil Douglas is also expected to be attending the event which is anticipated to be a glittering occasion.
Members of the general public are also invited to witness the swearing-in of the Cabinet of Ministers.