Four Seasons expanding in the Caribbean; region offers strong market, says Hotel Executive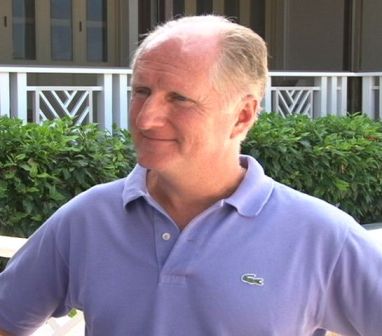 Four Seasons Regional Vice President Mr. Andrew Humphries. He is also the General Manager of the Four Seasons Resort, Nevis
CHARLESTOWN NEVIS (February 12, 2010) — An executive of the Four Seasons hotel chain said after 20 years on Nevis the hotel chain was expanding its business in the Caribbean because of the strong market the region offered.
Regional Vice President of the Four Seasons and local General Manager of the Resort in Nevis Mr. Andrew Humphries made the disclosure during a recent interview with the Department of Information.
"Ultimately we are in business and we see that it makes good business sense to be in the Caribbean. There is a strong market both from Europe and the US for our resorts. We have a worldwide reputation for running excellent hotels and the two come together very nicely in the Caribbean region.
"Access is always a little bit of a challenge in the Caribbean as we know but we hope that with stability of access and potentially even some increase in access from Europe, that we can continue to develop the business very successfully and have many hotels across the region. It's a product both the European and the US market love. We believe that we can do business in all of these islands," he said.
The construction of a property in Barbados had commenced in 2009 but Mr. Humphries explained there had been some delays with that project and work was expected to move forward shortly.
"Obviously we have had some slow down in the developments due to the economic circumstances but I am pleased to say that the Barbados project is about to restart. They have secured additional financing with help from the Government of Barbados and mid March should see the site being reactivated getting back on track to completing the homes and the hotel. So that is very exciting news…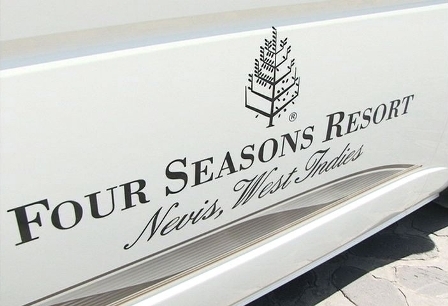 Four Seasons Resort, Nevis logo
"Linked to Barbados is a site in Grenada. I think until we are really sure Barbados is back on track, Grenada will remain on hold but they are exciting developments. As well, potentially a site in Puerto Rico that we are actively looking at and also a site in the Dominica Republic at Casa de Campa. That's a very large and prestigious development in the Dominican Republic and that's our current portfolio but we are always looking for opportunities, we are always looking for business partners." he said.
They have also looked at projects in the US Virgin Islands in many different places not all of them came to fruition, the Regional Vice President said but they were always interested in talking to investors.
Meantime, Mr. Humphries used the opportunity to address the efforts of the hotel chain's local and international efforts to assist earthquake stricken Haiti.
"That's something we are very focussed on at the moment. I am pleased to say the Resort, through employee donations and different efforts including a special deal for guests on the golf course, we have raised over US$11,800 for Haiti Relief.
"That's part of a global effort worldwide by Four Seasons they have raised well over US$150,000 which would be going to the American Red Cross. They are on the ground there they know best how to help our neighbours in Haiti," he explained.
He said they were mindful that Nevis suffered from hurricanes and these types of natural disasters occurred in the region.
"We know that in Nevis we suffer here from hurricanes and these kind of things can happen to us and we very much hope we will have good neighbours should anything untoward like that in Nevis but we are very focussed on that as an international effort," he said.