Four Seasons Resort, Nevis Reopens in Grand Style for the Fifth Time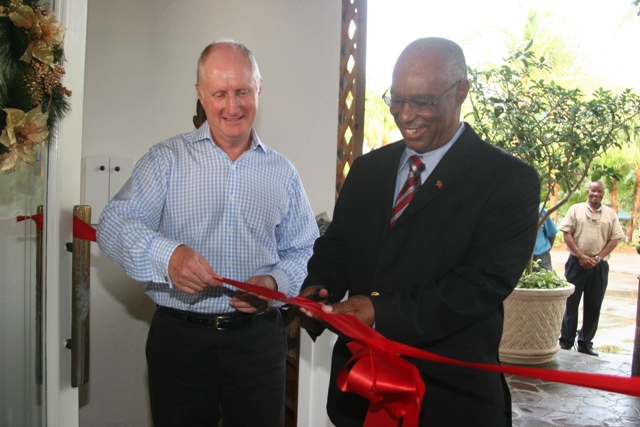 Premier of Nevis and Minister of Tourism in the NIA the Honourable Joseph Parry with Regional Vice President and General Manager of the Four Seasons Resort, Nevis cutting the ribbon to officially mark the opening of the Four Seasons Resort, Nevis
NIA-CHARLESTOWN, NEVIS (December 16TH 2010) — Following 791 days of closure that resulted from the fierce winds and awe-inspiring rainfall of Hurricane Omar in 2008, the Four Seasons Resort, Nevis, fully staffed and completely refurbished, officially reopened its doors for business yesterday [Dec. 15].
With an expected 15 rooms being occupied on opening day, the resort's management team joined by members of the Nevis Island Administration [NIA], other hotel managers on Nevis, tourism officials and representatives from the private sector gathered in the resort's Great House lobby on the eve of its opening [Dec. 14] for the official reopening ceremony.
"791 days of closure is a very very long time in anyone's book." Those were the words of Regional Vice President and General Manager of the Four Seasons Resort, Nevis Mr. Andrew Humphries as he described the resort's reopening as "a very emotional time" for him.
Mr. Humphries recorded his appreciation of "the great team effort of all the stakeholders." Among the individuals, organisations and businesses mentioned were the Honourable Joseph Parry-led NIA and the staff of the Four Seasons Resort, Nevis that is comprised of a large number of Nevisians.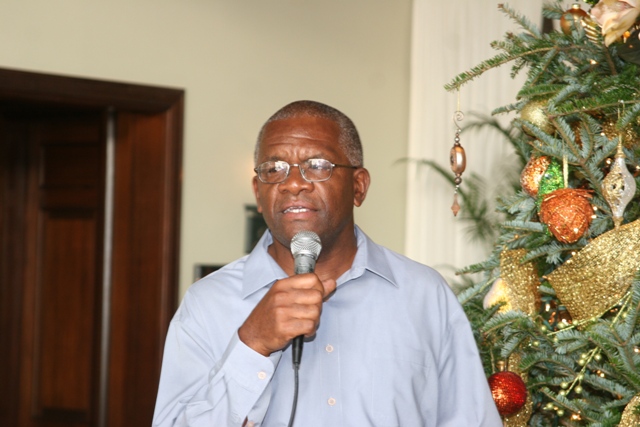 Director of Human Resources at the Four Seasons Resort, Nevis Mr. Samuel Caines
While only 50 percent of the guests' rooms will be available, the resort will be entirely operational Mr. Humphries said, highlighting the need to ensure that guests "have a wonderful experience."
Mr. Humphries, during his remarks, read a letter from the Canadian born Founder and Chairman of Four Seasons Hotels and Resorts, Mr. Isadore Sharp which underpinned Mr. Sharp's support of the once five diamond resort.
"The momentous occasion" as described by Human Resources Director at the Four Seasons Resort Mr. Samuel Caines, marks the fifth reopening of the hotel since its Feb. 14, 1991 launch on Nevis.
In reflecting on the circumstances that led to the resort's closure, Director Caines said he was positive that his hotel's reopening would represent "an upturn in the island's economy."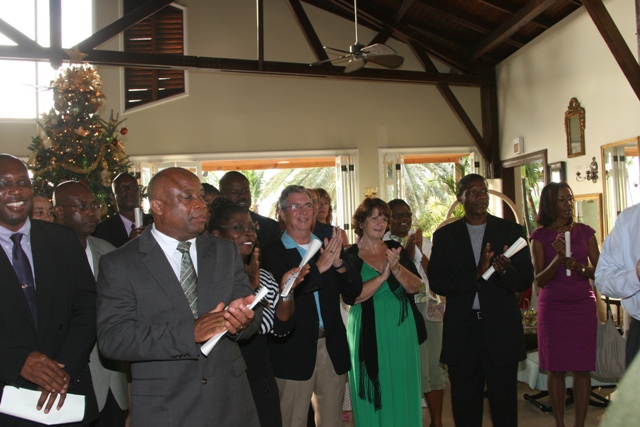 NIA officials, hotel managers and other well wishers at the reopening ceremony
"Any one of us who wasn't aware, before Hurricane Omar, that this island's economy hinges on the success of this hotel then we absolutely found out during that two years and two months of closure," he said.
The resort's mass hiring initiative in October of this year, led to more than 400 persons being employed. The newly hired employees joined 225 persons who were not laid off during the resort's closure, for weeks of training in order to prepare for the festive season.
Owners' Representative and Project Manager Mr. Tom Delaney endorsed Mr. Humphries' remarks as he too showered praises on the NIA for its instrumentality in the resort's reopening.
The ceremony culminated with the traditional "ribbon cutting" demonstration by the island's Premier and Minister of Tourism the Honourable Joseph Parry.