French Ambassador to the OECS pays courtesy call on Nevis Premier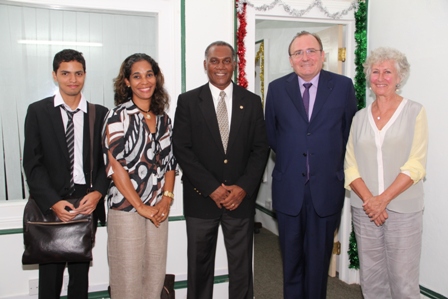 NIA CHARLESTOWN NEVIS (December 16, 2013) –Premier of Nevis and Minister of Education Hon. Vance Amory wants the French language to be a subject more effectively taught in the island's primary schools and he sought the help of a top French Official who paid a courtesy call at Premier Amory's Bath Plain Office on December 13, 2013.
Mr. Amory made the disclosure in an interview with the Department of Information at the end of his meeting with French Ambassador to the Organization of Eastern Caribbean States (OECS) based in St. Lucia, His Excellency Eric de la Moussaye.
"We've spoken a bit about some of the things which your country could help us with and how we ourselves could benefit from your country's assistance. One of the things we spoke about was the idea which I've been knocking around and that is to have the French language taught effectively in our primary schools.
"I raised that with His Excellency and I'm seeking to get some help in that regard and also to look at other assistance maybe in Agriculture, research our assistance…how we can improve on our productivity," he said.
In response, the French Ambassador, who was accompanied by his wife, Honorary Consul of France in St. Kitts and NevisMs. Shawna Lakeand a colleague from Panama, thanked Mr. Amory for his warm welcome and offered to assist Nevis.
"We want to see you because it is important, to see all the federation and as I told you, I think we can…succeed in projects, as you say, with the French language, agriculture and many other things as well as we do in St. Kitts because it's important to also have you involved in the project of cooperation," he said.
The French Ambassador explained that he was once a civil servant in France and the issue of cooperation was of great value to the government then and something he would like to see intensified.
"I want it now to be more intense, so that it would be good for the population of Nevis and be sure, be confident, that I will try to do what we spoke about together and I will come back of courseand see your nice country…thank you very much Mr. Premier for this welcome and be sure I will come back for something concrete as we say in French," he said.
The French Ambassador's visit to Nevis followed after he presented his credentials to the Governor General His Excellency Sir Edmund Lawrence for accreditation to serve as Ambassador to St. Kitts and Nevis.