Islander Water Sports impresses Nevis Tourism Minister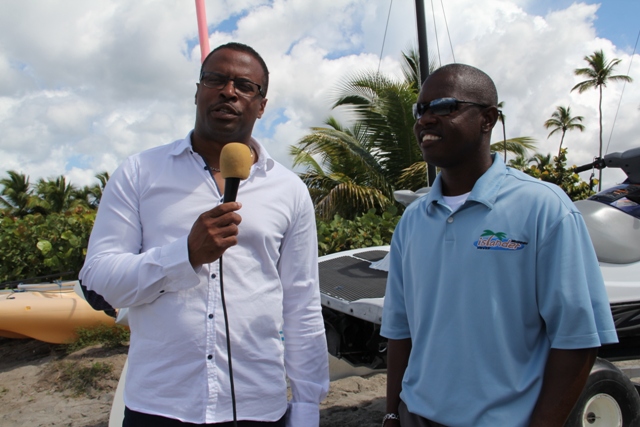 NIA CHARLESTOWN NEVIS (March 07, 2014) — A young entrepreneur got a visit from Deputy Premier and Minister of Tourism Hon. Mark Brantley on March 05, 2014, who was at the time on a field trip to a number of tourism-related construction sites on the island.
Visibly impressed with Islander Water Sports, a company owned and operated on Pinneys Beach outside Four Seasons Resort by Wincent Perkins, Mr. Brantley commended him and his team and expressed satisfaction with their accomplishments in the tourism industry.
"Mr. Perkins, thank you very much for receiving us. I can tell you that as Tourism Minister, we are very proud of you and your team and what you have accomplished so far.
"We wish you every continued success. I am very happy to hear that business has been good and I am hoping that through our efforts we will make it even better," he said.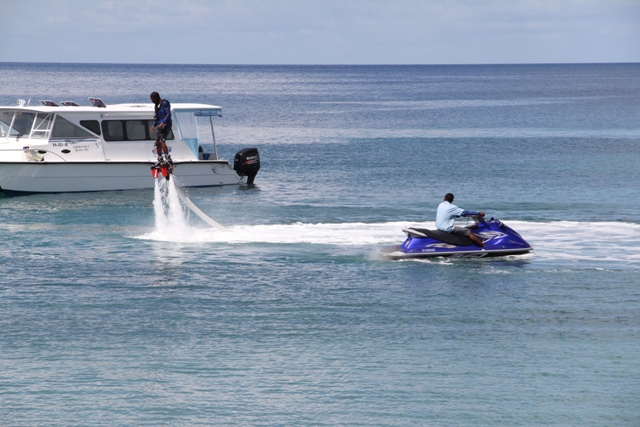 The Tourism Minister who witnessed some of the modern water sports activities offered by Islander Water Sports, noted that he was pleased for their availability for the enjoyment of visitors and residents alike.
"The Flyboarding and all that I have seen it myself and I cannot promise I am going to try it but it is good to see that the most modern in terms of attractions that you have that are available right here through your company and through your efforts," he said.
Mr. Brantley told Perkins that he was hopeful the business would continue to expand and benefit from the efforts of the Nevis Island Administration in the area of Tourism.
"I wish you all the very best and certainly from the Ministry's point of view and the Government's point of view, we look forward to continue the partnership, whatever we can do to make things easier for you, that is why we are here.
"Perhaps the next time we come, because we hope to come periodically and find out how things are going, that your employee numbers will be up from the 14 that you have now and that your business continues to grow from strength to strength. So thank you very much for your hospitality and for having us today and for letting the people of Nevis know what Wincent Perkins and your business is all about," he said.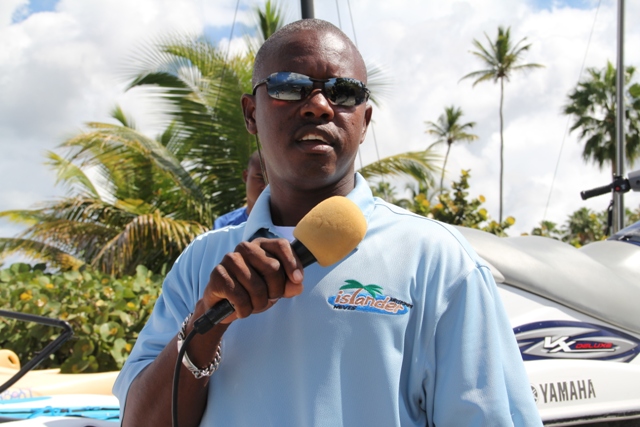 Meantime, Perkins in a brief comment explained that he had always had an affinity for the sea because his father was a fisherman, a trait he subsequently adopted and grew to love. He noted that the Company which now employs a team of 14 started on September 25, 2004 but as recent as December 15, 2013 set up shop on the beach at Four Seasons.
He gave an insight into the services offered by his Water Sports Company and also spoke of the staff's level of certification.
"We do motorised and non-motorised water sports. We offer Stand up Paddle Board, Kayaks, sail boats which is a Hobie Wave, we have Pico sail laser. For the motorised part of it, we do the Banana, we have the Band Wagon and we have the Chariot which are all Turbo Tubes. We also do Water skiing, Wakeboarding, Kneeboarding. We also give lessons.
"Our newest feature is called a Flyboard. It is the only one in Nevis; there are two on St. Kitts. We started this also on December 15th and our guys are trained and certified in doing all those stunts. It is a good feel for our water sports. It's actually boosted the tourism feel here at Four Seasons.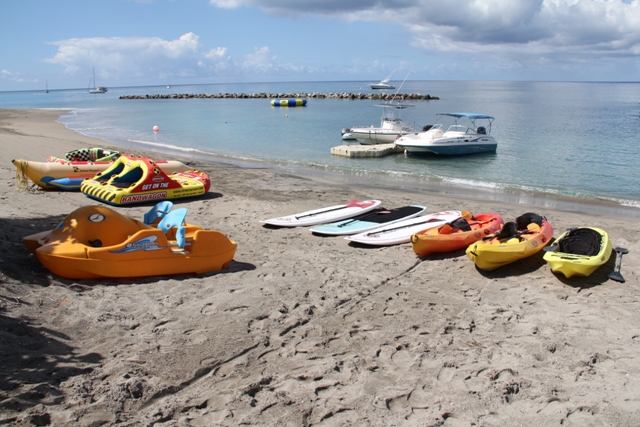 Perkins also spoke to the level of certification in his organisation.
"All of my guys are certified, trained to do all the above mentioned water sports. We also are certified in sailing. We give sailing lessons. We give you a certificate after a lesson and most of the guys here are trained captains. I am a licenced captain of the water taxi, 50 ton licenced captain. I have Dijon [Perkins] my nephew also trained as well and some of the guys are STCW [Standards of Training, Certification and Watchkeeping (for Seafarers)]-trained as well," he said.
According to the Islander Water Sports Chief Executive Officer, he began working with the Four Seasons Resort in 1993 in the area of water sports, on completion of Secondary School and he explained how his business came into being.
"Actually I started with Four Seasons in 1993 just out of high school. I have always been in the water sports. My background is fishing. My dad was a fisherman so I actually started this company in 2004 because of the glitch the hotel had and I said this is actually what I wanted to do and I started doing this and the company expanded to this after that," he said.
However, he stated that the company had been experiencing a good season without any hurdles.
"We actually have had a very good season. We have been very busy. Christmas was our hit. [Since] we took over the water sports here at Four Seasons in December 15, 2013.Since we took over we have not had one glitch till today so most of our guests they are all happy and impressed with what we have done here.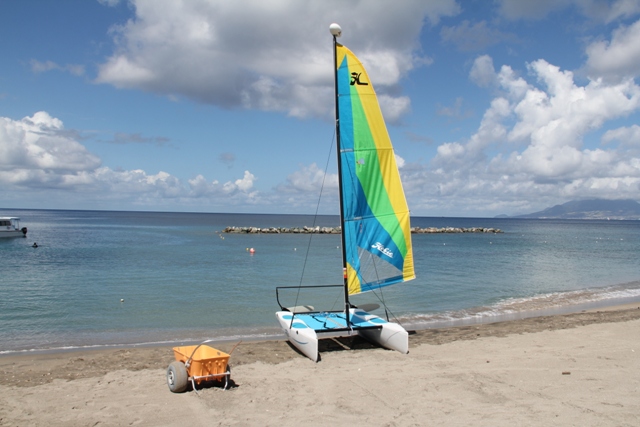 "The General Manager [Sven Wiedenhaupt] and Assistant Manager Diego are very impressed and our guys are in high spirits. They love what they do, so that just makes me proud of what I am doing here today.
Regarding the level of support Islander Water Sports had received since its inception, Perkins noted that it was satisfactory.
"The level of our business is very good. We get a lot of support from the hotel and private houses. Our big clients are the Four Seasons, Montpelier and Nisbet Plantation [Inn]. We also do a lot of private houses on the island and locals are now taking part in our water sports activities as well," he said.