NIA throws support behind tourism-related construction projects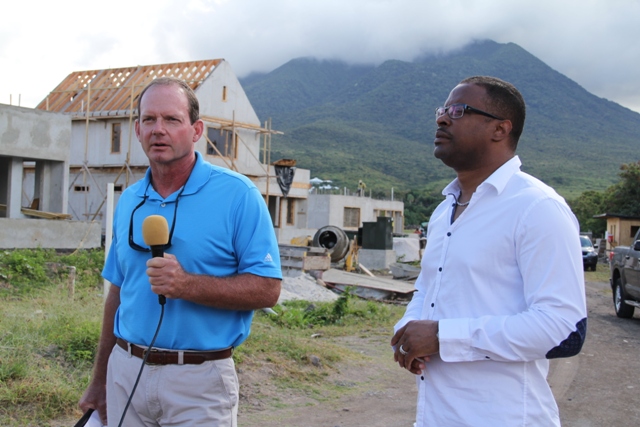 NIA CHARLESTOWN NEVIS (March 06, 2014) — The Nevis Island Administration continues to throw its full support behind ongoing construction works in tourism-related projects. The disclosure was made by Deputy Premier of Nevis and Minister of Tourism Hon. Mark Brantley on his first stop of a field trip to some of those ongoing projects.
Mr. Brantley told Newell Shanklin, Director of Construction at the Four Seasons Resort Estates (FSRE) at the end of a tour of work sited there that the visit was part of the Administration's efforts to keep the public updated on the happenings on the island.
"This is an ongoing effort by the Government to inform the general public of what's happening on the island. What we find is a lot of these construction sites are busy. There is activity but the public isn't aware unless they are working on the site and so we visit from time to time. I think we were here about eight months ago and so this is a follow-up visit…
"As Minister of Tourism, I continue to commit my fullest support and the Government's fullest support to projects at FSRE. I think they are the most luxurious and certainly one of the most successful real estate projects on the island. You have been going for nearly 20 years and so, this is something that we hope to continue," he said.
The Minister also expressed satisfaction with the job opportunities created through FSRE which employs 20 full-time staff members and 120 sub-contractors.
"I am particularly pleased to hear that you are hiring and that you are opening up new parcels because that means we are looking for more and more development, more and more job creation. We have said as a government, this year is a year we are going to focus very heavily on job creation so I am very happy to see that. Construction, as you know, is the backbone of any economy and certainly in the Caribbean here and so I am happy to hear the pounding hammers and the machines going- sounds of progress, that's what I like to hear.
Meantime, Shanklin gave some detail about the ongoing development project.
"Currently under construction, we have four villas. There are two different floor plans. There are 15 of these villas planned and they are three bedroom single structures and a four bedroom which has a detached cottage. We are currently working on Villa 2004 and we have reservations up to 2008. So we plan to start two more of these this year. These are a fractional ownership product, so each villa is owned by 10 separate owners and is part of the Citizenship by Investment Programme…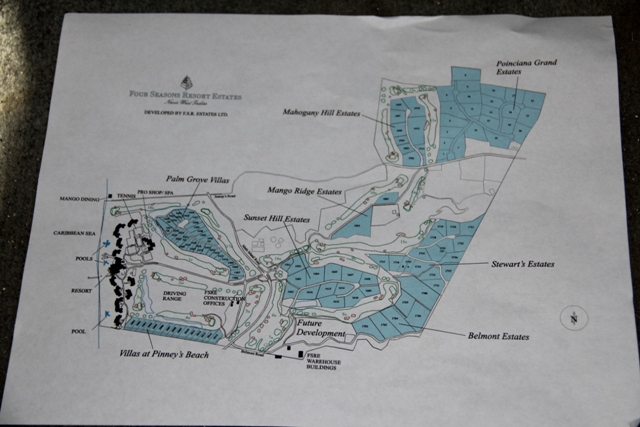 "We estimate that the Villas at Pinney's Beach will be based on the current sales projections and the time to build the actual villas we are probably projecting another two to three years to finish this project in its entirety and that will be landscaping, the villas complete and we get out of this area. We also plan to build a small maintenance building for the hotel staff to maintain these 15 villas. That will be another structure FSRE will build using our local contractors," he said.
Shanklin also explained that work on the first villa on the 23-acre-lot Poinciana Grand Estates was expected to begin shortly. However, overall work was estimated to be completed over a span of 6-10 years.
"Presently we have four villas under construction. We also have another three villas under construction at Stewart's Estate which is above the [Four Seasons] Resort and we are also putting in infrastructure in Jessups at Parcel 11 which we call the Poinciana Grand Estate," he said.
"We intend to break ground on the first villa there at the end of March. It is currently with the Planning Department under review for the building permit," he said.
Regarding the expansion of its employees to meet the growing demand of its work load, the Construction Director spoke to progress in that area.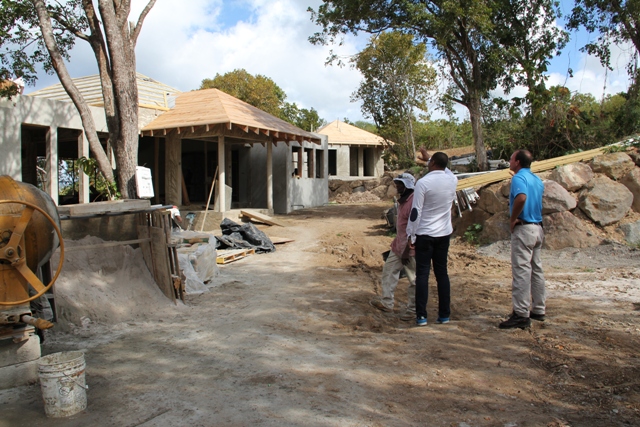 "Presently, in order to meet our demand, the volume of work coming at us, we are staffing up both in-house and we are also interviewing new local sub-contractors to be a part of our team in the continued construction of these villas.
"We recently advertised for a Purchasing Assistant who we successfully hired from a local candidate. We are also presently interviewing for two foreman positions and they will act alongside the job site superintendents on the sites and the day-to-day management of the construction activities," he said.
The FSRE was one of three other tourism-related establishments visited by Minister Brantley on that field trip. The others were The Hamilton Beach Villas and Spa at Cotton Ground, Island Water Sports, Tamarind Cove Marina Development at Cades Bay and a project by Leighton Thomas.