Landmark Income Tax Amendment crucial for Nevis, says Premier Parry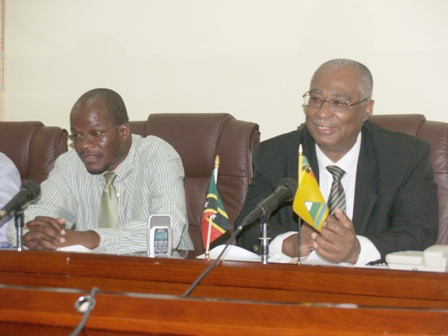 (L-R) Attorney General, Hon. Patrice Nisbett and Premier of Nevis, Hon. Joseph Parry
(Charlestown, Nevis– Friday, November 26, 2010) — An amendment to the Income Tax Act in the Federal Parliament on Thursday was the main topic of a press conference co-hosted by the Premier and Minister of Finance for Nevis, the Hon. Joseph Parry, and Federal Attorney General, the Hon. Patrice Nisbett. The meeting was held at the Ministry of Finance conference room on Friday morning.
"This historic landmark legislation is crucial for the island of Nevis, as for the first time since 1983 the Government of Nevis is fully authorized to collect the Corporation Taxes from all companies operating on Nevis. The taxes collected would immediately increase the Treasury's collections by four to ten million dollars annually," the Premier proudly stated.
The Premier added that the amendment would allow for businesses operating in Nevis to pay taxes to the Consolidated Fund of the Nevis Island Administration (NIA), and no longer to the Federal Government, through the Inland Revenue Department.
Companies in St. Kitts with branches or subsidiaries in Nevis would be required to pay taxes in Nevis for their Nevis locations. Likewise, companies registered in Nevis but who carry out business in St. Kitts will be required to pay corporate taxes to the Federal Government.
Mr. Parry said the legislation would put Nevis in a much better and stronger position to move on with the NIA's push towards Devolution of Power for Nevis, allowing for the island Government to put more money into the Police Force, job creation policies, more incentives for businesses, education, and other areas.
"We [the NIA] were able to make this amendment a reality without any arguments or conflicts with the Federal Government. The Nevis Island Cabinet has had several meetings with the Federal Cabinet, in addition to meetings between me and the Prime Minister, the Hon. Dr. Denzil Douglas and today we are able to say that the island of Nevis is able to collect millions of dollars that are owed to the Nevis Treasury," concluded the Premier.
Since taking office in 2006, the Parry-led NRP Administration embarked on historic joint Cabinet meetings with the Federal Cabinet. The meetings have proven to be mutually beneficial to the people of both islands with the latest amendment to the Income Tax Act being just one such example.