Last of 17 Independence Day 2012 awards delivered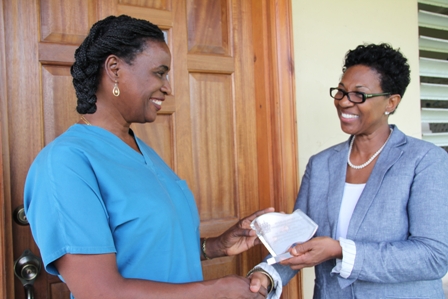 NIA CHARLESTOWN NEVIS (September 26, 2012) — Long serving Veterinarian on Nevis Dr. Patricia Bartlett, finally received her 2012 Independence Day Award, one week after Nevis celebrated the Federation of St. Christopher and Nevis 29th Anniversary of Independence on September 19, 2012. She was one of 17 persons awarded on that day but was not present at the ceremony at the Elquemedo Willet Park in Charlestown.
The brief but significant presentation was made by Permanent Secretary in the Premier's Ministry Mrs. Joslyn Lyburd to the final recipient at the Vet Services Department at Prospect on September 26, 2012. She explained why the courtesy was extended to Dr. Bartlett.
"We are here this afternoon to present to Dr. Bartlett her Independence Award. Unfortunately she was off island when the letter of her nomination came and so she was unable to be with us on Independence Day at the celebrations. So we thought that it was that important to present it to her and we came to her area of expertise in which she is receiving this award," she said.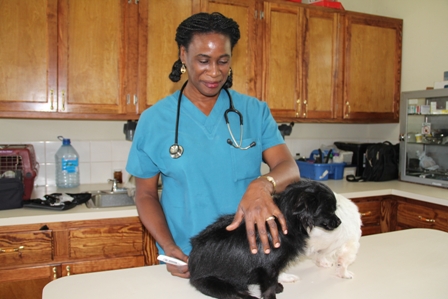 Mrs. Liburd used the opportunity to thank Dr. Bartlett for her service in the development of Nevis over the years.
"It [the award] says 'The Nevis Island Administration 29th Anniversary Independence Award presented to Dr. Patricia Bartlett for sterling contribution in the field of veterinary services' and so Dr. Bartlett, we want to thank you so much. You have been on this island the only, the sole Veterinarian and we want to tell you how much we appreciate that fact and so congratulations," she said.
In response, Dr. Bartlett thanked those who were responsible for recognition of her contributions over the years.
"I would like to say a special thank you for taking time out to make sure that I got my award specially delivered. Special delivery is always good and I would like to thank the Administration for recognising my contribution and thank Nevis for the support I have gotten over the years. Thank you," she said.