Lions Club donates books to Nevis Library Services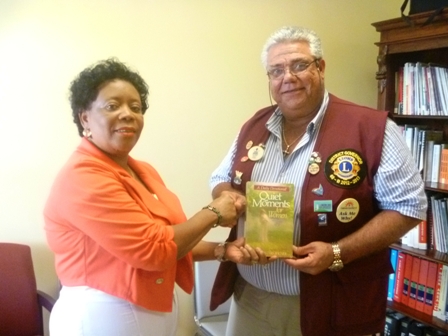 NIA CHARLESTOWN NEVIS (SEPTEMBER 25, 2012) — Director of the Nevis Library Services in the Ministry of Education and Library Services on Nevis Mrs. Sonita Daniel, described a gift of books from the Lions Club as timely, appropriate and a gesture that would help to place books in the hands of the people of Nevis.
Her comment came when she was presented with the gifts for the island's libraries on September 21st 2012, at a presentation held at the Nevis Electricity Company's Conference Room at Long Point.
"This donation of books will help put books in the hands of our people. These books will be placed in our school and community libraries.
"It was the visionary Minister of Social Development in the Nevis Island Administration under his Social Transformation Agenda in 2007 recognised the direct positive correlation between poor reading skills and a failure to keep on reading and crime and violence and decided to take the library services to the people of Nevis," she said.
According to Mrs. Daniel, libraries were then established in community centres throughout the island since the Minister at that time realised that an investment in reading paid the highest interest.
"Reading facilitates success and provides a competitive advantage in the job market. Regular reading not only boosts the likelihood of one's academic, professional and economic success but it also awakens a person's social and civic sense. As we say colloquially, if you can read no one can fool you," she contended.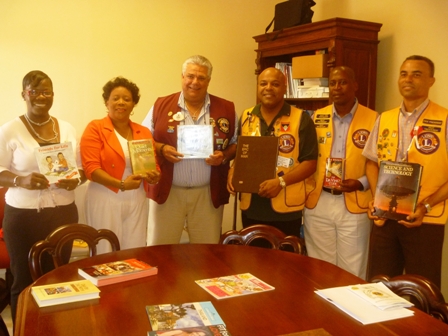 The Library Services Director quoted author Joseph Brodsky who said there were worst crimes than reading books and one of them was not reading them. In that vein she pointed to the debate on critical national issues which had become sterile, due to the failure of the island's people to read.
"Literacy transforms the lives of people empowering them to make right choices and informed decisions. No matter what age you are, you must take time to read for poor reading skills or a failure to keep on reading is a set-up-for failure.
"As the Success Researcher Jim Rohn has said, 'Ignorance is not bliss. Ignorance is poverty. Ignorance is devastation, Ignorance is tragedy, Ignorance is illness. They all stem from ignorance'," she said.
Mrs. Daniel registered her passion for literacy and stated that placing books in the hands of children was a joy for her as a Librarian and explained that her experiences as an educational services provider had taught her that reading was the single most important part of a child's education.
She was firmly of the view that if children were to become enthusiastic lifelong readers, they had to have access to high quality books.
Notwithstanding, Mrs. Daniel thanked the Lions Club of Nevis and the Waterford Lions Club of Ontario, Canada through their member Mr. Peter Hexamer for their efforts to assist the Nevis Library Services in extending the fundamental human right of literacy to the people of Nevis.
"Thank you for being our partner in this essential undertaking. It is my hope that we can continue this partnership as we at the NLS promote reading as part of our people's pathway to success.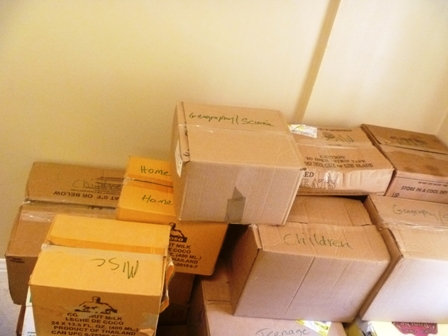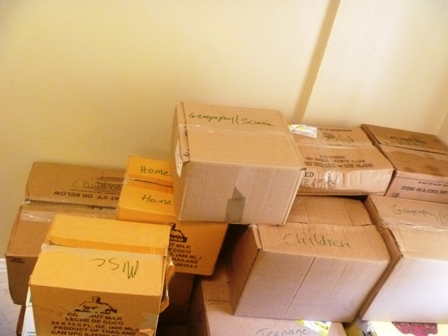 "Please accept again the heartfelt gratitude of the NLS for this timely donation. Long live the Waterford Lions Club of Ontario, Canada! Long live the Lion's Club of Nevis. May this partnership between the Lions Club, the Waterford Lions Club and the Nevis Library Services began today grow in leaps and bounds, as we seek to develop a literate citizenry so that we can enjoy peace and success in our fair land," she said.
Also present at the handing over ceremony were Mrs. Marva Roberts from the NLS, District Governor Zone 60B Mr. Claudius 'Tony' Boncamper MJF, Zone Chairman of the Antigua Lions Club Mr. Lester Ephraim, President of the Nevis Lions Club Mr. Cartwright Farrell and the Immediate Past President Mr. Ernie France.