Training available for aquaculture investors, says Nevis Agriculture Official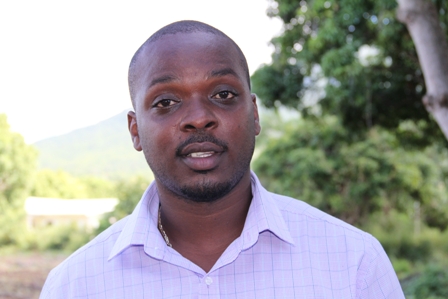 NIA CHARLESTOWN NEVIS (SEPTEMBER 24, 2012) —
Acting Director of Agriculture on Nevis Mr. Randy Elliott has thrown his support behind the Ministry and Department of Agriculture's aquaculture pilot project at Prospect. He called on the island's farmers and fishers to venture into land based fish farming and make use of the concessions available by the Nevis Island Administration (NIA).
Mr. Elliott's urging came in a recent interview with the Department of Information at Prospect to shed light on the Ministry and Department of Agriculture's newest pilot project.
"The Ministry and the NIA have certain things in place in terms of concessions and so forth on fish stock materials, for farmers willing to go into this there is training available.
"The Ministry and Department of Agriculture and Fisheries would be willing to send farmers on for additional training. We ourselves have officers who are in the process and who will be in the process of training so they could offer local training to those who are interested in such technology," he said.
The Acting Agriculture Director described the project as one important to Nevis' food security and pointed to the food import bill for St. Kitts and Nevis.
"It is a plea to not only farmers but investors on a whole that this project is actually important. It is not important in terms of dollar book for each individual but it is important in terms of our food import bill.
"I think about a month ago Minister Harris would have quoted a bill of $130 million a year in terms of food imports and I think something like this would be able to bring the food import bill down quite a bit because again the ultimate goal of the Ministry of Agriculture to help to product as much agricultural stuff as possible," he said.
Notwithstanding, Mr. Elliott acknowledged that although there would be farmers willing to be a part of the project, others would take a wait and see attitude but stated the project would be rewarding.
"We have some farmers that would be willing to buy into it. There are some that will stay on the side and look on to see the success of other farmers. This is something like any other farm where one wishing to invest in crop farming the initial cost is actually high but once you are able to have good production over time, I think farmers would be able to make an income," he said.
The pilot aquaculture project will be used for farming tilapia, a fresh water fish available in Nevis at local supermarkets but is imported from far off lands.
The Nevis Agriculture officials insist that the move would not be to replace Fishers but instead would be brought into the technology along with farmers. The method they said would be cheaper than sea fishing and were hopeful the project would help decrease the existing cost of fish on the island.
Regarding possible expansion of the project, Mr. Elliott noted that it was up to farmers and private individuals to make the investment but the plan was not to expand to other Government owned farms.
"We are hoping that farmers themselves private individuals would be able to come here see the investment and take it to their private properties. So that is the initial concept but if the off take is a bit slow, we probably may have to go put down ponds in other areas that would have the infrastructure, in terms of power, security and so forth…We are hoping private individuals will take the concept from here and move forward," he explained.
The Project would be managed jointly by the Ministry of Agriculture and Fisheries. There are two Agriculture Officers trained in that area plus two other workers would be assigned to the project to ensure the day to day activities go well. However, overall it would be looked over from time to time by Permanent Secretary in the Ministry of Agriculture and Fisheries Dr. Kelvin Daly and Mr. Elliott to ensure that the swift resolution of any hiccups with the project.
The Acting Agriculture Director also used the opportunity to invite the public to visit the pond and made an appeal.
"I would just plead to the public that now you know what the fish pond is, please do not come in and steal fish and for the private persons out there Prospect is open to the general public whether you are from Queen City Nevis or St. Kitts. Prospect is open to anyone to come in and look at the project and see the way they would like it to go forward…
"We are asking the general public, persons who have an interest to come in look to see what is going on and see how you could go forward in terms of adding to food security here in Nevis," he said.