Make Powell a sports ambassador, callers suggest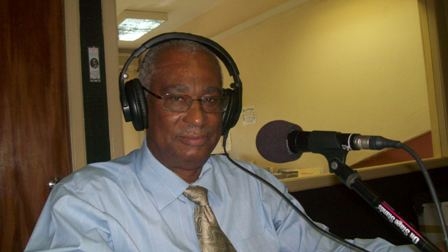 Charlestown, Nevis (Wednesday, November 21, 2012)–
Several callers to the popular radio program "In Touch with the Premier", on Tuesday (Nov. 20) strongly suggested to Premier Parry that outstanding Nevisian cricketer Kieran Powell should be made a sports ambassador in the wake of his recent stand-out performances.
The callers were also high in praise for his father and former cricket administrator (the Hon. Carlisle Powell), his mother (Ms. Gillian Andre), his maternal grandmother ( the late Mrs. Rosalie Andre), and all who had anything to do with his success.
Since the last edition of " In Touch with the Premier" (Nov. 13), when Premier Parry congratulated Powell for scoring his second test century, Powell joined the ranks of the immortals, becoming only the ninth West Indian and 65th overall to score a century in either innings of the same test.
Powell scored 117 (Nov. 13) and 110 (Nov. 16) during the first test against Bangladesh at Mirpur, (Bangladesh) to join Windies cricketing greats George Headley, Sir Everton Weekes, Clyde Walcott, Sir Gary Sobers, Rohan Kanhai, Lawrence Rowe, Gordon Greenidge and Brian Lara. He is only the second West Indian opener (after Gordon Greenidge, 1976) to achieve the feat. Only Headley and Sobers were chronologically younger at 21, Rowe, and Weekes were 22, Greenidge (25), Kanhai (26), Walcott (28) while Lara was the oldest at 32.
"This is a great idea", Premier Parry said several times, in response to the callers, seemingly taking the idea on board.
Commendations have been flowing around the region, and internationally, for the young Nevisian who has distinguished himself this calender year as an opening batsman alongside the legendary Chris Gayle. In July, the pair put on an opening partnership of 254 – the fourth highest opening stand for West Indies – against New Zealand at the Sir Vivian Richards Cricket Stadium in Antigua, as Powell registered his maiden test hundred, 134.
Among those showering praises on Powell are former West Indian cricketers.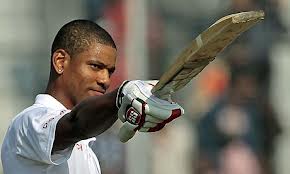 Trinidadian Bryan Davis, a right-handed batsman who played 4 tests for the West Indies against Australia in 1965, said recently, in an article, "Powell impresses,he is taking his opportunity and is playing with a lot of mental strength. He is playing like a master. It was a fantastic effort by a young cricketer to play two innings like that."
Former fast bowler Anthony "Tony" Gray, also of Trinidad, played 5 tests for the West Indies in 1986 and 1987, said: "His patience has improved. He has shown technical improvement. He is learning to build an innings. He was also aggressive when he was younger and you now see the patience level. His concentration has also improved."
With the two centuries in only his 12th test, Powell's batting average jumped from 25 to 33, and gives him an enviable record normally reserved only for the greats, with a century in every four tests. Powell now has three.