Nevis Renal Society receives generous financial gift for care of kidney patients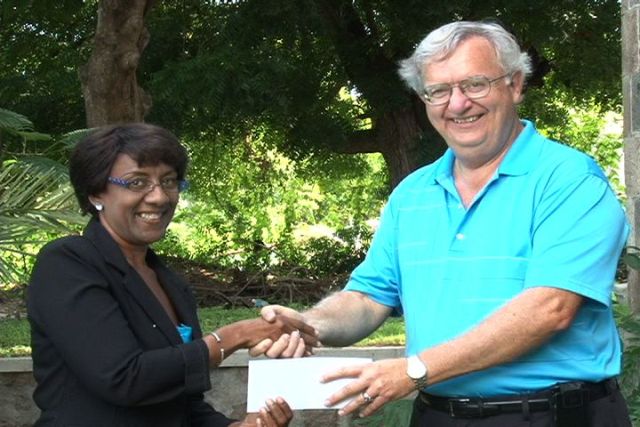 NIA CHARLESTOWN NEVIS (NOVEMBER 21, 2012) —
The Nevis Renal Society registered its gratitude to a Trust Service Provider on Nevis, its biggest donation ever, since its fund raising activities to assist with the medical care for Nevisians afflicted with kidney related illnesses.
President of the Tarsus Trust Co. Ltd. Mr. Thomas "Tom" Ferneau handed over a cheque of over $US12, 000 on behalf of the Trust and co contributors Alan and Jayneen Ross of Oklahoma, to the Society's Treasurer Ms. Paulette Hanley on November 20, 2012 on the grounds of the Nevis Island Administration's building at Bath Plain.
"We wish to express our profound appreciation to Mr. Ferneau and the Tarsus Trust Company. Rest assured that your contribution would be spent wisely. The Society will continue our quest in partnership with the Nevis Island Administration to ensure that the Dialysis Unit becomes a reality.
"We are cognisant of the fact that this is an uphill battle but your Company has heard and answered our clarion call and that has given us that impetus to ensure that our dream, your dream and the people Nevis' dream become a reality… Once again a very big, big, big thank you for coming forward to support and partner with us in this worthwhile venture. The Society wishes to express our best wishes to you and your company in your future endeavours. Thank you very much," she said.
Ms. Hanley also noted that over the years the Society had assisted kidney patients who travelled overseas for medical attention.
During the handing over, Mr. Ferneau said the donation from his Trust and associates was for the benefit of the Society's fund drive.
Meantime, the Society's President Mrs. Alexia Pemberton stated that Mr. Ferneau and his Associates had heard of the Society's campaign to raise funds for the establishment of a dialysis unit on Nevis and also to raise funds to help treat dialysis patients and responded generously.
"Their hearts warmed towards our efforts and they decide to give to us in a very big way," a grateful Pemberton said.
Also present at the brief handing over ceremony, were Tarsus Trust Co. Ltd. Office Manager on Nevis Mrs. June Hanley-Pemberton and the Society's Public Relations Officer Ms. Florene Williams.
The donation was made on the heels of an announcement by Premier of Nevis and Minister responsible for Health Hon. Joseph Parry that payment for a brand new dialysis machine was completed and the equipment was expected to be delivered to Nevis sometime in December 2012.
Meantime, the Tarsus Trust Co. Limited's website stated that the Company was based in Nevis as a licensed trust service provider. It was formed by international financial professionals who have been working globally for over 20 years.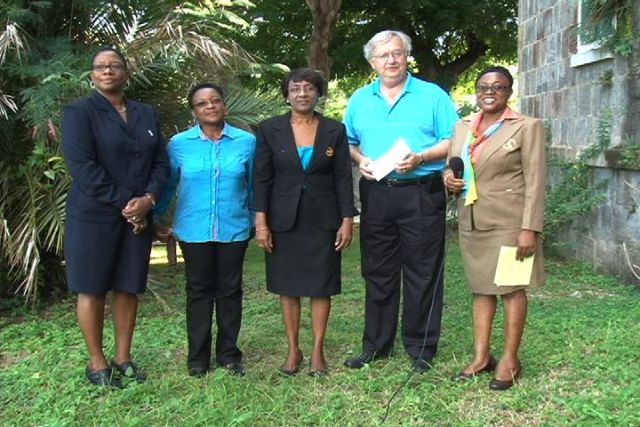 "Tarsus clients enjoy the advantages of compliant multi-jurisdictional financial and estate planning by utilizing jurisdictional advantages to commerce and advantageous legislation which supports business opportunities," the website said.
In 1986 the principals of Tarsus established affiliates in the Cayman Islands; in 1999 expanded into Dominica and in 2002 opened offices in Nevis.
"Tarsus, its professionals and its affiliates, are all committed to the highest quality of transnational services along with consultation and support. We are committed to making a difference for our clients.
"Tarsus also works with financial professionals to provide custom solutions that suit their client's individual needs. We also maintain relationships with qualified international financial service professionals and can provide references for clients seeking specialized support services," the website said.