Minister of Agriculture reflects on the strides made by the sector over the years.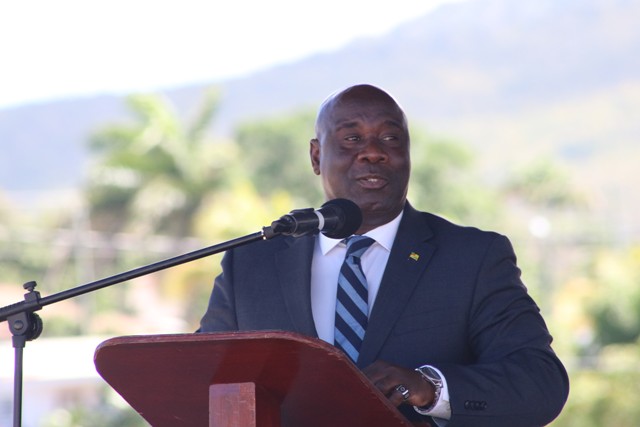 NIA CHARLESTOWN NEVIS (March 29, 2019) — The following is the full text of the address delivered by Hon. Alexis Jeffers, Deputy Premier and Minister of Agriculture in the Nevis Island Administration at the 25th Annual Agriculture Open Day opening ceremony on March 28, 2019 at the Elquemedo Willett Park.
The 25th Anniversary of the Agriculture Open day, is in many ways, a success story for the Agriculture Sector on the Island of Nevis. For the Ministry and Department, it is a vehicle through which we showcase what is being done and what is possible in Agriculture. It is a chance for us to inspire and encourage farmers, and the youth, towards the possibilities that exist within the sector.  If we do a comparison of our conditions and the resources that were available in 1994 and now in 2019, the only resource that has perhaps remained the same is the land.  And that is why we have impressed upon our farmers to utilize the land more, to produce more, so as to earn more.
In 25 years, we have seen changes in our climate (weather patterns, temperatures, rainfall, frequency and intensity of Storms), we have seen the introduction of better irrigation techniques, shade house production and the development of organic products so as to assist in production to ensure that we have safer food.  Of course, we have had changes in Administrations, policies and personalities that have driven agriculture over the years.  These are just a few of the changes that would have taken place but the Goal has always been more or less the same, which is to ensure as much local production as possible take place. Whether it is in the crop or livestock side of agriculture.
One cannot help but wonder about that first meeting that was held by the former Minister of Agriculture the late Hon Malcolm Guishard, former Permanent secretary Elmo Liburd (Patron), former Director of Mr. Augustine  Merchant and their support staff when they sat down to plan this activity. Whether they saw this far into the future and whether this activity, 25 years later, is something they are proud of. I will say that the answer is a resounding yes…because if we were cast out minds back to 1994 when this event started in Prospect, it was a one day event for just about the first seven years. The event grew to the point where it was extended to two days and moved to the Villa Grounds because it began to exceed its expectations. And over the next 21 years we have had additional crop products being added by the Department and our farmers, additional meat product from our Abattoir and butchers, new and innovative products from our agro processing unit and agro processors, displays by our fisher folks and increased participation by our Allied agencies, partners and stakeholders. Over the past years and up to today we have had the perennial journey being made by our friends from St Eustacius, St Maarten, St Croix other regional territories and the University of the West Indies.
This year the theme for the Celebration is 'Think Climate Smart, Food and Nutrition Security and Sustainability for our 25th Anniversary.  The key ideas in the theme can be easily identified with; for example, the climate has changed especially in terms of temperature, where 2017 and 2018 were the two hottest years for the planet ever recorded in history. In fact 2017 saw record breaking temperatures for just about every day of that year. This phenomenon brings with it numerous challenges to farmers and farming.  These include scarcity of water leading to severe droughts, reduced production and yields etc.
Looking further at the theme, we have been speaking about food security for many years, however we have to continue to put measures in place so as to ensure that food is readily available to our citizens, that it is accessible and most importantly, it is affordable.  The final key term to look at is sustainability in the context of production and supply of food to our people. We all need food on a daily basis and such we must avoid damaging or wasting natural resources or contributing to climate change which can affect food production. Further, farming should be practiced in a way that ensures that food is produced, processed, distributed and disposed of in ways that provides social benefits. Such social benefits include food that is safe to consume, food of the highest quality and food that maintain our health and well being.
For 25 years we have showcased what is possible, while we celebrate this two day event we have to step back and ask ourselves whether we have enough youths coming into the sector, are the existing farmers making a big enough impact or do we have enough persons farming.  When we look at our food import statistics and bills we see a sector that is valued in excess of 60 million dollars annually. We are currently looking at our statistics to make sure we understand how much of the fresh fruit, vegetable and meat is imported.  Based on our land size and space we know we cannot stop the importation of food, however imagine if we have our farmers putting 10 or 20 million dollars in their pockets and letting that money stay in our economy.
Opportunities exist for local produce to successfully compete with imported products as interviews carried out with hotels and restaurants revealed that supply managers prefer to purchase local vegetables and fruits since they taste better, maintain their freshness thus having a longer shelf life. Ideally, higher production yields will decrease the current cost of production, making local produce more competitive.
As you walk around today and tomorrow do not only enjoy the atmosphere but look at the possibilities that exist.  Visit the Extension Booth and look at how you can grow lettuce, tomatoes, herbs and thyme in your back yard or porch, visit the Abattoir and livestock areas to see areas where you can do your part to cut down on the importation of mutton, pork or beef.  Support the farmers of Nevis who continue to produce fresh and high quality nutrient rich food. Even if you don't want to do agriculture directly there are support services that you can provide to farmers such as transportation, accounting and record keeping, cleaning of weeds from around farms, agro processing and so much more. There is the need to better integrate information and communication technologies into the sector which in turn improves efficiency and we are looking for young and passionate people to do this.
From the Ministry we are looking at the possibility of directly working with a core group of farmers, pushing specific products on the crop side. On the livestock side in the first instance we are pushing the increase in mutton production.  We recognise that to transition successfully, farmers need increased access to technical and financial assistance to achieve further commercialisation.
We would be extremely happy to meet the food demands from the tourism industry, however and most importantly we have to feed the residents of our island.  Our people from both a health and economic perspective deserve to have access to local nutrient rich and safe foods.  We have seen in the news and in social media that strange things can happen in food production such as the supply of plastic rice and plastic cabbages, we have waxy films and preservative chemicals on fruits and vegetables that are shipped to our shores.
We have begun the consultative process to address some of the weaknesses and problems that exist in the sector. We will be looking and the policies and framework that are needed to lend additional support to our farmers.  The thing is, we want Farmers to make food available and chastise them for not producing more, but we must acknowledge that farmers are also business people who are taking huge risks to make sure there is food available.  We must continue to support them in facing the challenges such as pests and diseases which are prevalent climate change, praedial larceny or stealing of produce at the harvesting stage and effective marketing.  If there are no rewards for our farmers when they work, we cannot expect continuity because this is not a charitable duty.
As we look to the next 25 years as a people we have to support each other with consumers supporting farmers, farmers supporting consumers and most importantly our health, tourism and the agriculture sectors all support each other.  As a community we have to look after each other so that we can all achieve – Nevis is too small to have everyone believing they can do it alone – it is either we all rise together or we fall together.
Thanks you for listening, may you have two wonderful days here at our 25th staging of our Agriculture Open day 2019. Buy as much as you can, learn as much as you can and most of all enjoy as much as you can.
May God bless you, bless this event and bless this beautiful Island. I thanks you.