Remarks by Minister of Social Development Hon. Eric Evelyn on Sustainable Development Goals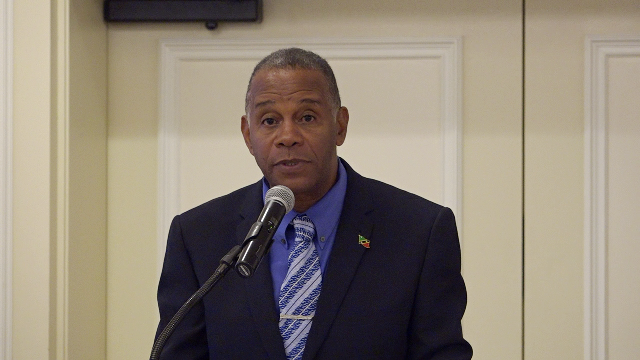 NIA CHARLESTOWN NEVIS (March 29, 2019) — The following is the full text of Opening  remarks delivered by Hon. Eric Evelyn, Minister of Social Development in the Nevis Island Administration on Day 2 of  the 2nd Biannual Regional Forum on the Sustainable Development Goals on March 28, 2019 at the Four Seasons Resort, Nevis.
The distinct pleasure is mine to join with my Cabinet colleagues, Premier the Honourable Mark Brantley and the Honourable Hazel Brandy Williams who spoke yesterday, in extending a very warm welcome to all to this important biannual regional forum on the Sustainable Development Goals with special emphasis on goals 3 (good health and wellbeing) and 5 (gender equality).  A very special welcome to those gracing our shores from overseas.  I will be brief as I don't intend to cut into your precious time for presentations and discussions.
Much would have been discussed yesterday at the Minister's forum from which we are expecting results regarding policy changes moving forward.  I dare say that even more needs to be discussed today at this the technocrats forum as you sit in an extremely important position where you can influence the policy makers to change, reform, tweak, adjust, refine or introduce policies that would best position our islands to achieve the sustainable development goals.
Included in your deliberations today is a discussion on "Accelerating Progress in the Fight against NCD's: Priorities for Intervention and Investment" and I am particularly pleased that this has made it on the agenda for this conference.  Here on Nevis and throughout the region there has been a clarion call for us to change our lifestyles and especially our eating and exercise habits to fight Non Communicable Diseases (NCD's) and probably the time is right for drastic changes to be made at the policy level.  That may require advice and pressure from you the technocrats to ensure that our policy makers are on board and will make the necessary policy changes.  NCD's are eating away at our health budgets in the region and therefore priorities for intervention and investment must be tabled sooner rather than later.  We cannot wait until tonight or tomorrow to start taking care of our health, we must start now.
Equally of concern to us in St Kitts Nevis and the region by extension is the issue of gender based violence which would also be receiving some attention today.  As we continue our efforts at attaining the sustainable development goals we must spare no efforts in decreasing and ultimately brining and end to gender based violence.  We have seen some horrific cases here in our small beloved Federation with my tranquil village making news for the wrong reasons only last year.  As we deliberate on eliminating violence against women and girls, let us also be mindful that there are also real cases few and far between as they may be of violence against men and boys.  Therefore let us seek to end all violence irrespective of the gender.   My hope is that this conference can yield some real and practical solutions to end this scourge.
The issue of men's health and the need for it on the 2030 Agenda is another subject area that caught my attention.  Our men need to take full responsibility of their health and the more encouragement they can get, the better.  Here on Nevis, we have seen a vast improvement in how seriously men are taking their health.  That trend must continue and improve and it must take root in all the regional countries.  I must commend our men folk on Nevis for the great strides that they have made over the past few years in making this happen, but there is still room for improvement, we can still do much better.  We would like to see more men's wellness clinics as would have been started in Gingerland several years ago.  Whatever has to be done, the men must not be left behind as we seek to attain SDG 3 of good health and wellness.  The future of our nation and that of the region and the world depends heavily on the health of the men.
Making mention of these three areas is no indication that they are of more importance that the others on today's agenda.  All of what will be discussed today are very timely and of relevance to the forum and therefore I expect that they will all be given the same level of significance.
I am of the view that we in the sub-region, as Small Island Developing States, and our region as a whole have been standing head and shoulders with larger islands and countries in our efforts at attaining the SDGs.  This biannual forum is testimony to that and through our collective efforts we must continue to prove to the rest of the World that we are serious about the 2030 agenda.  I wish therefore to heartily congratulate the Ministry of Health and Gender Affairs in collaboration with the Ministry of Social Development which has direct responsibility for Sustainable Development for organising and executing this forum.
So as you deliberate today, I encourage you to be frank and open as we chart the way forward for the sub-region to forge ahead with the attainment of the sustainable development goals.  Let us be mindful that the sustainable development goals are about us and what we would like to see for the sustainable development of our nations and our people.   The SDGs are not about the politicians, they are not about the technocrats they are about people, you and me.  They are about leaving no one behind.  So in your discussions today, remember your neighbour, your brother, your sister who may be less fortunate than you are.  In our deliberations and actions, we should always seek to be all embracing so that when we move forward we are going together and not alone.  We should therefore all see ourselves both as pioneers and partners in the thrust forward.
I take this opportunity to wish today's deliberations well.  It has been the privilege of the Ministry with responsibility for Sustainable Development which I have the honour to lead to collaborate in hosting this forum.  May your deliberations today be meaningful and fruitful.  Have a wonderful day and may God continue to bless us all.