Ministry of Education launches new Mathematics competition with corporate citizen's assistance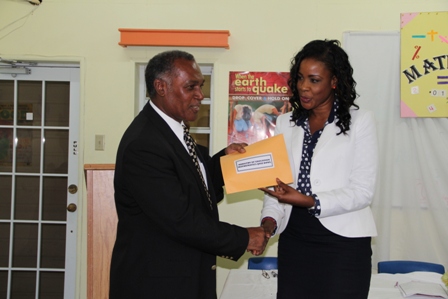 NIA Charlestown nevis (December 13, 2013) – The Ministry of Education through the Department of Education officially announced at a handing over ceremony on December 12, 2013, that the Royal Bank of Canada (RBC) RBTT would sponsor their new Math Bowl Competition. The ceremony was held at the Department of Education at Marion Heights.
The Math Bowl Competition which is slated for February 6, 2014, will be held at the Nevis Performing Arts Centre (NEPAC) under the theme "Project Gains." The competition was created by the Department of Education, in an effort to produce a greater interest in Mathematics and to improve the below average scores on the island. The programme will be launched for first and second formers in the secondary schools in which two participants from each form will be selected to participate in the competition.
While delivering remarks at the ceremony, Maths Coordinator for Nevis, Ms. Sylvia Fahie spoke about competition and outlined the expectations of the competition.
"We started with K to grade 6 and we plan to continue our activities into this important phase: the lower Secondary… There are plans for more and different types of competitions – intra and inter-schools and perhaps inter-island in the future; maths fairs, multi-island workshops via Skype with our partners in Virginia as was conducted recently on October 14th to list a few," she said.
In closing, Mrs. Fahie thanked the RBC/RBTT for their generous contribution and invited persons to participate in the new competition.
"Many thanks to RBTT Bank, for recognizing the value of competition especially in the critical area of Mathematics. Without your generous support we would not be on track to making the Math Bowl a reality.
"This is the first step, a significant step towards revitalizing Mathematics in the schools. We anticipate all stakeholders, faculty, students and partners and others to participate fully and contribute in great numbers to a successful event in February, 2014," she said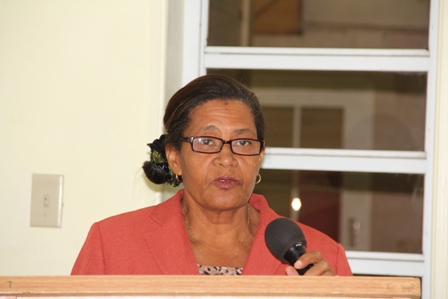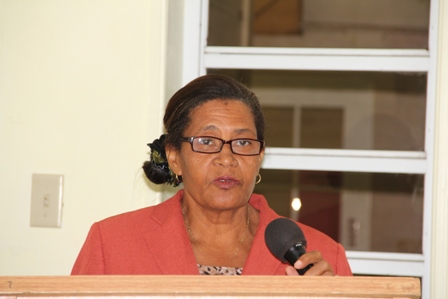 In response, Mrs. Corliss Sutton, RBC/RBTT Representative pledged the bank's commitment to the Nevis community.
"Equipping students to succeed in a competitive global economy is a very difficult task, particularly when financing is involved and so when Mrs. Queeley-Connor approached RBTT with the idea of a Math Bowl Competition amongst schools, we readily embraced the collaboration to provide the desired financing to make this idea a reality…at RBC/RBTT it is our cooperative objective to promote social and economic development in the communities we serve," she said.
Also present at the handing over ceremony were Premier of Nevis and Minister of Education on Nevis Hon. Vance Amory, Permanent Secretary in the Ministry of Education Mrs. Lornette Queeley-Connor, Principal Education Officer, Mrs. Palsy Wilkin, and Education officers of the various Secondary schools.