Montserrat Housing Minister impressed with Nevis' Affordable Housing Project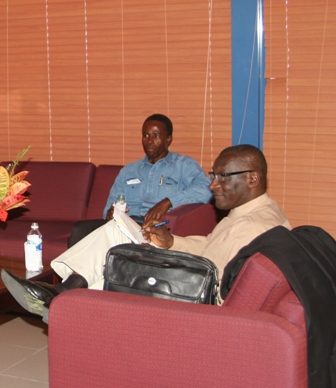 Montserrat's Minister responsible for Housing Mr. Joseph Farrell (r) and his Housing Technician Mr. Graves at the VIP Longue at the Airport in Newcastle just before their departure from Nevis
CHARLESTOWN NEVIS (October 26, 2010) — The Nevis Island Administration's (NIA) Affordable Housing Project came under scrutiny by Montserrat's Minister responsible for Housing Mr. Joseph Farrell and received glowing reviews.
Mr. Farrell, who represented his island at the recently concluded Organisation of Eastern Caribbean States (OECS) 14th Ministerial Environment Policy Committee meeting at the Mount Nevis Hotel, used the opportunity to tour two housing projects, among them the most recent Cherry Gardens. He was accompanied by his Housing Technician Mr. Graves.
In an interview with the Department of Information prior to his departure on Friday, Mr. Farrell explained that his tour was pre arranged with the Nevis Housing and Land Minister Hon. Robelto Hector.
"I just completed a tour with my housing technician to your housing project and that again is amazing the work that government is doing in terms of housing. I am looking at providing more affordable housing and I speak based on the advice given to me by my technician on more affordable housing for low income middle income housing and I am very impressed with what I saw.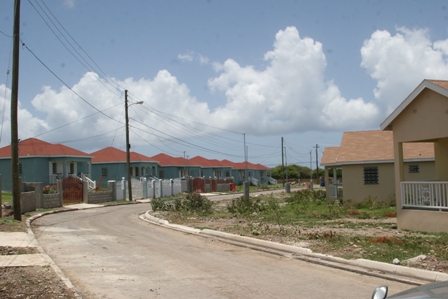 Some of the residential homes at Cherry Gardens constructed under the Nevis Island Administration's Affordable Housing Project
"We toured two housing sites Cherry Gardens is one and a smaller one and I am very impressed, it's fantastic. I must compliment the government for the way they are trying to make housing affordable to the various socio-economic groupings. The housing thing is very impressive. I just wish that I could pull your houses across to Montserrat…I am very, very impressed. I think you are making strides in spite of everything, you are making strides," he said.
The Affordable Housing Project on Nevis falls under the jurisdiction of the Nevis Housing and Lands Development Corporation, a statutory body which is mandated to provide service of the highest quality in the development, alienation and sale of lands and to construct affordable houses, which are structurally sound and economical.
The Corporation is in the process of implementing a multimillion dollar housing project for the construction of hundreds of affordable homes, throughout the island, many of which have already been completed and assigned.