Nevis agriculture continues to benefit from partnership with Republic of China (Taiwan)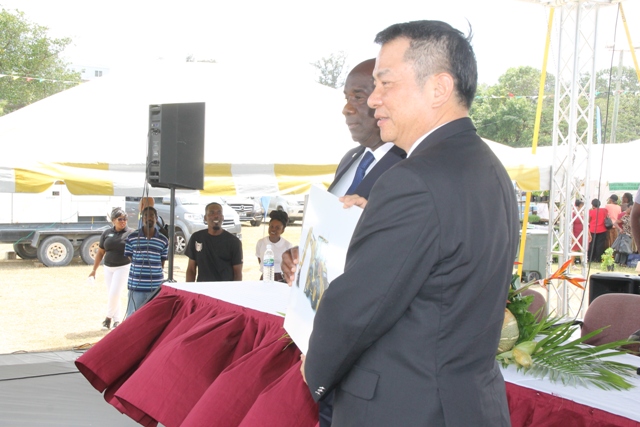 NIA CHARLESTOWN NEVIS (March 26, 2018) — The Department of Agriculture and farmers on Nevis continue to benefit from the partnership forged with the Nevis Island Administration (NIA) and the Government of the Republic of China (Taiwan).
Over the last six months, they have donated equipment valued at more than US$500,000 including two Toyota Hilux pick-up trucks, to meet the needs of farmers and the Department of Agriculture.
Resident Ambassador to St. Kitts and Nevis His Excellency Chiou Gow-Wei, handed over a US$140,000 cheque to Minister of Agriculture Hon. Alexis Jeffers at the Department's 24th Annual Open Day opening ceremony on March 22, 2018, for the purchase of a backhoe which will be used for land clearing. The theme for the agriculture open day was "Building resilience Climate Change for food security."
"In order to meet the needs of farmers and the Department of Agriculture, two tractors have been provided by this Embassy to the Nevis Island Administration last year.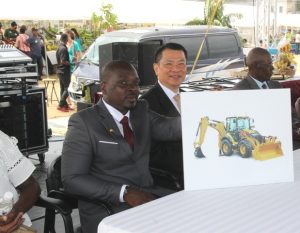 "Today, I would like to represent the Government of the Republic of China (Taiwan) to provide the funds for the Department of Agriculture to purchase one backhoe loader for farming use," he said.
The Ambassador expressed hope that the assistance would not only aid in the reduction of expenditure for farmers and the Department of Agriculture but would also ensure that farmers in Nevis have access to mechanical services the equipment provides.
He spoke of the large tracts of land managed by the Department which are used for livestock and crop farming which is maintained, at present, by costly and inefficient manual labour.
Ambassador Gow-Wie also announced that four meteorology stations would be installed in St. Kitts and Nevis in the coming years, to help achieve greater food security.
The announcement in Nevis, comes on the heels of a new agricultural cooperative project between the Republic of China (Taiwan) and the government of St. Kitts and Nevis, to develop and provide climate change mitigation and prevention techniques for the Federation's farmers.
He said, changing weather patterns in St. Kitts and Nevis over the past five years has negatively impacted the agricultural output. However, once the meteorology stations are installed, they would provide the necessary data to help to predict abnormal weather changes before agricultural damage occurs.
In the meantime, Ambassador Gow-Wie stated that the Ministry and Department of Agriculture on Nevis, continues to implement various strategies to improve and increase crop production.
The Ambassador also pointed to the relationship between his country and St. Kitts and Nevis.
"In the past 34 years, the people and government of Nevis has shared a cordial and close relationship with Taiwan.
"More than a dozen cooperative projects supported by the International Cooperation and Development Fund of Taiwan have been implemented in St. Kitts and Nevis. We are looking forward to cherish this friendship and further strengthen it," he said.