Nevis Agriculture Official thanks ROC/Taiwan Ambassador for prompt action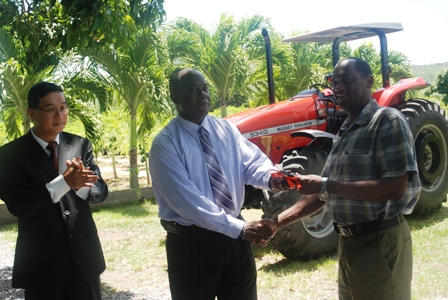 NIA CHARLESTOWN NEVIS (AUGUST 02, 2012) — Permanent Secretary in the Ministry of Agriculture Dr. Kelvin Daly was openly thankful to Republic of China/Taiwan's resident Ambassador to St. Kitts and Nevis for his prompt action in response to a request by the Ministry of Agriculture for a tractor for use in land preparations on Nevis.
Dr. Daly who gave brief remarks at a handing over ceremony at the Taiwan Mission in Cades Bay on July 27, 2012, said they were especially grateful since the mechanisation effort which the Ministry and Department of Agriculture had embarked on in 2006 has been particularly difficult.
"When you include the crisis in the world economy, it seems as if we had no hope of improving our tractor fleet for a long time to come but we decided the best thing to do is to approach our friends and it is good to have friends.
"So we approached the Ambassador and in very quick time what you see before you is a brand new Massey Ferguson tractor. I think the Ambassador deserves a round of applause for such quick action. We have been working through our Chief of the Technical Mission Mars Shiue and he has been extremely friendly and helpful to the Ministry and the Department of Agriculture," he said.
The Permanent Secretary also noted that the Ministry was grateful for the generosity of the Taiwanese people and the tractor would assist immensely in solving one of their biggest problems in agriculture on the island namely land preparation.
He said over the years they had encouraged farmers to get involved in more and more production and the Taiwan Mission at Cades Bay had been instrumental in the introduction of a number of crops among them sweet potato, corn and pitaya production. However, it had become difficult in the absence of the equipment necessary for making land preparation easier, more economical and regular.
Dr. Daly said the new tractor would greatly enhance the work of the Ministry and Department of Agriculture.
"With this piece of equipment, we will be able to move forward quickly and be able to timely prepare lands for our farmers who have been very, very cooperative over the years with our programmes at the Ministry to improve production on the island.
Notwithstanding, the Agriculture Permanent Secretary stated that there had been much success with farmers since 2006.
"We have moved from 50 farmers in 2006 to 71 today. We have moved from very small acreages to considerably larger acreages. It is the largest sprout in agriculture that I am aware of in the last century. So this piece of equipment will make our work a lot easier going forward," he said.
In conclusion Dr. Daly told the Ambassador that this would not be the last time his assistance would be sought by the Ministry and Department of Agriculture on Nevis.
"We will be calling on Mr. Mars and we will be calling on the Ambassador as time progresses because we need help but I am assured and they can be assured that whatever we ask for will be used and used well.
"We do not approach them for nefarious things or useless things we always approach them with a serious problem and we always get a serious answer. So we really appreciate the friendship, we want to make sure the friendship continues into the future and I see no reason why it shouldn't. We have a good team and they are eager to help us and we are eager to be friends and move forward," he said.
The Massey Ferguson tractor valued at US$38,500. was handed over to Minister of Agriculture on Nevis Hon. Robelto Hector at a ceremony at the Taiwan Mission at Cades Bay
The tractor is the second to be added to the Department of Agriculture's aging fleet. The first, a John Deer tractor valued at US$45,000. was received earlier this year from ALBA Alementos. The third tractor will be funded by the Nevis Island Administration and is expected to be received by early September 2012.