Nevis remembers the M.V Christena Tragedy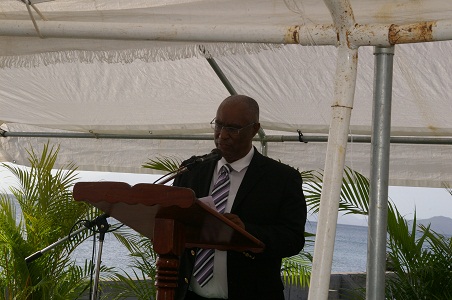 CHARLESTOWN,NEVIS(Thursday, August 2nd, 2012)–The Annual Service organized by the Nevis Island Administration (NIA) to commemorate the lives of those who perished on the tragic final journey of the inter-island ferry the M.V Christena, was held at the Memorial on the Samuel Hunkins Drive on Wednesday, August 1.
---
The M V Christena sank off Nags Head in the Narrows between St. Kitts and Nevis just after 4pm on Saturday, August 1, 1970 – forty two years ago.
Two hundred and thirty six (236) persons perished in what is on record as the worst maritime disaster in Caribbean history. Ninety nine (99) persons survived.
In delivering remarks, Premier of Nevis, the Hon. Joseph Parry admonished attendees to tell younger ones about their history. He said that it is important that young people know about the struggle of their elders, which has helped to ease the lives of young people today.
"Many people lost their family, friends and loved ones on that day, but it is because of their fate that the Nevis Reformation Party was formed (1970), Culturama began (1974), and a new day of development came to the island of Nevis," said the Premier.
He also charged those who are being less than model employees, to do better for the progress of Nevis.
"Today in Nevis, let us go to work regularly, be on time and let us really know what we want, and work hard to achieve it," he urged.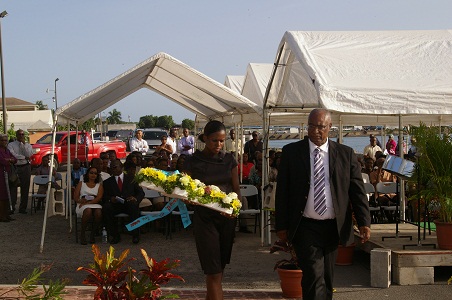 The ceremony was chaired by retired Assistant Secretary in the Nevis Island Administration, Mrs. Mariney Newton, who also gave the welcome remarks.
The opening prayer was delivered by Pastor Denzil Roberts of the Church of Christ on Government Road, while the Scripture was read by Ms. Nicole Liburd who lost her grandmother, on that tragic day 42 years ago.
The reading of names of those who perished, and those who survived, were delivered by various family members, followed by a minute's silence, and laying of wreaths.
Approximately one year ago, the NIA commissioned another memorial at the site of the mass grave at the Bath Cemetery where many who perished were interred.