Nevis continues to move closer to making geothermal energy a reality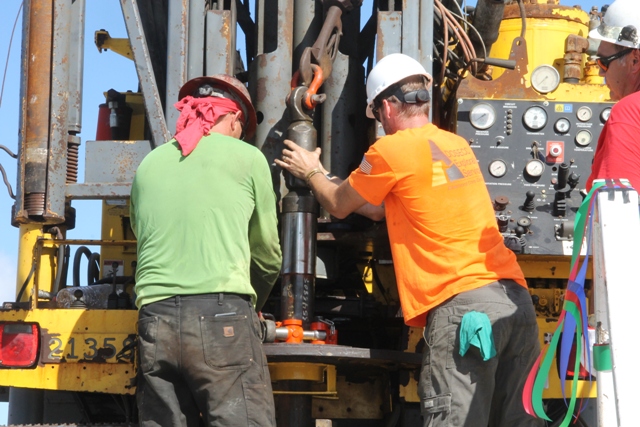 NIA CHARLESTOWN NEVIS (November 22, 2017) — Nevis added another step toward the realisation of geothermal energy when drilling operations commenced for a test well at the site in Hamilton Estate.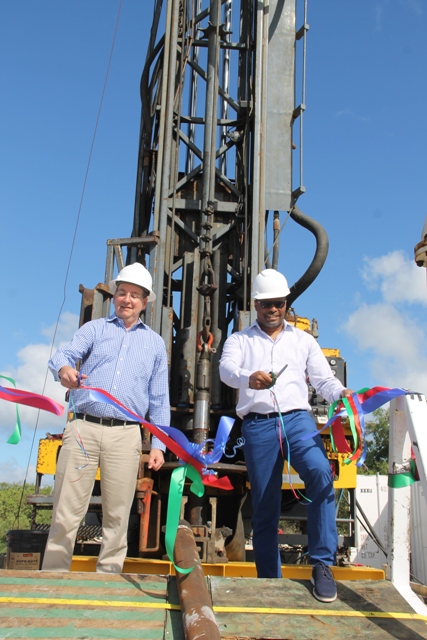 Mr. Dan Pfeffer, President of the Nevis Renewable Energy International (NREI), the US based company contracted by the Nevis Island Administration to harness the island's geothermal energy and Hon. Mark Brantley, Acting Premier of Nevis cut the ribbon to signal the start of the drilling process on November 22, 2017.
Mr. Pfeffer described the project as one which would make a difference in the lives of the people, of Nevis.
"It's very unusual to come across a situation or an opportunity where you get to convert from a fossil fuel plant, that as we all know is full of pollutants, to an absolutely green environment.
"Perhaps the best thing about this project is the island of Nevis will never ever again have to experience high electricity rates due to increasing prices of petroleum. So we are excited to be here," he said.
The NREI resident also spoke of the local persons employed with the first phase of the project. He said the company believed that all the available jobs for the project should first go to the residents of Nevis and they were excited to have six on board.
Meantime, Mr. Bruce Cutright, Chief Executive Officer for NREI who was also present said the project would transform the energy picture for the Federation of St. Kitts and Nevis and in the end will be a gateway project for the Caribbean.
He used the opportunity to thank all who contributed to making the project possible namely Mr. Brantley, Mr. Jervan Swanston, Acting General manager of the Nevis Electricity Company Limited, NREI's local representative Mr. Mc Clevon Tross and all those who will be working on installing the test well which he said, would prove out the geothermal reservoir for the citizens of Nevis.
Also present at the ceremony were Dr. Ernie Stapleton, Permanent Secretary in the Ministry for Natural Resources and the Environment in the Nevis Island Administration and Mr. Spencer Brand.