Nevis Division ACP describes 2011 as turbulent for Federation's Law Enforcement; urges Officers to work harder to reverse trend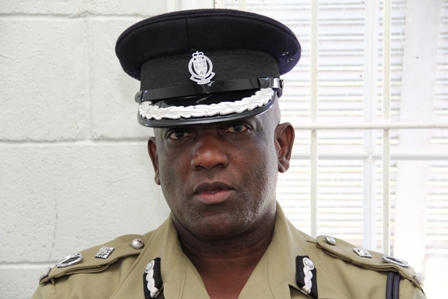 NIA-CHARLESTOWN NEVIS (January 05, 2012) —
Assistant Commissioner of Police (ACP) in the Royal St. Christopher and Nevis Police Force with responsibility for the Nevis Division Mr. Robert Liburd, described 2011 as a turbulent period in the context of crime and criminal activity in St. Kitts and Nevis, which had the capacity to derail efforts in protecting the Federation's treasured tourism product.
The ACP made the comment when he delivered remarks at the Nevis Division's annual New Year's Programme which was held on January 4th at the Charlestown Police Station's Recreational Centre.
"The overall statistics suggest that the incidences of homicides during the period represent a meagre 2 per of the crimes committed. Notwithstanding, the level of crime and violence in the country is enough to derail our efforts in protecting our treasured tourism product.
"These incidences have not gone unnoticed by outsiders by any stretch of imagination. Our visitors are petrified and have expressed fear when considering a place to holiday," he said.
According to Mr. Liburd, a recent article in the International Business Times written by Kathy Dutile entitled "How Safe is the Caribbean? An Island by Island Look" addressed the matter of crime and safety for travellers and listed St. Kitts and Nevis in the top three of the "Most Dangerous" category with Jamaica first and Trinidad and Tobago third.
Notwithstanding, the article stated that although the vast majority of visitors to the island had safe trips and the homicides were not targeted at tourists, they were advised to take standard travel precautions.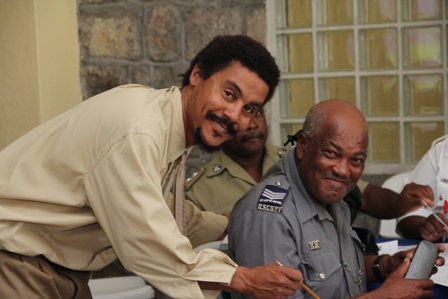 He quoted the article as saying "When most tourist think of the Caribbean they imagine tranquil white sandy beaches, azure blue water and an always perfect summertime breeze.
"However, with the increase amount of high profile murders and disappearances like that of Natalie Holloway in Aruba in 2005, some tourist have began to question if the Caribbean Islands are desirable and safe place for vacation."
ACP Liburd said the challenge therefore, was for law enforcement in St. Kitts and Nevis to works much harder in order to reverse the trend.
"The Federation of St Kitts and Nevis with a tiny population of less than 50, 000 has been sandwiched between Jamaica and Trinidad and Tobago whose populations are measured in millions. Our young men need to take stock and note where they have plunged our beloved country as a result of their stupidness.
"Based on the foregoing, it is clear that Law Enforcement has a lot of work to do in order to reverse this awful trend and save our tourism product," he said.
The Senior Police Officer who had taken up his position with the Nevis Division as of December 1, 2011, thanked the Officers stationed on Nevis for their sterling contribution and support and commended them for the team spirit they had shown during 2011.
Notwithstanding, he urged them to prepare for the serious challenges ahead since they could not combat crime and violence on their own. He said it was something that had to be done in partnership with the community they served in order to reap success.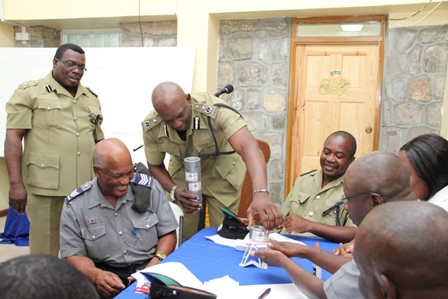 ACP Liburd also made known his intention to work studiously on their Crime Plan which he noted would guide the Division through difficult times.
"During the last quarter, crime increased slightly, something that the island has never experienced. We have recognized it and we intend to work studiously on our Crime Plan in order to guide us through these rough waters. My number two priority is to reducing incidence of serious crimes in the Division during our next 3 to 5 year plan," he said.
Meantime, the Officers of the Nevis Division were also treated to a seminar on "Effective Team Leadership Strategies" by Featured Speaker of SEN Consulting Mr. Noah G. Mills. During his interactive presentation participants including ACP Liburd and Divisional Officer Superintendent Hilroy Brandy took part in interactive exercises related to leadership.
At the conclusion of the presentation, Mr. Mills told the Officers that leadership did not necessarily have to come from the top but from any rank within the Organisation. He said leadership was not always recognised though and in cases where it was, it may not be rewarded extrinsically but "no one but yourself can deny you of leadership, reap your own intrinsic rewards," he said.