Nevis Fisheries Minister heartened by Japanese Government's generosity; US$10million donation for new Fisheries Complex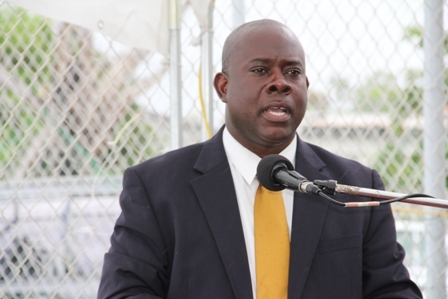 NIA CHARLESTOWN NEVIS (April 30, 2012) —
An agreement signed and notes exchanged between the Nevis Island Administration (NIA) and the Japanese Government for a US$10million grant on Friday April 27, 2012, paved the way for construction of a new Charlestown Community Fisheries Complex at Gallows Bay.
Minister responsible for Agriculture and Fisheries on Nevis Hon. Robelto Hector in his remarks at the function, said he was heartened by the generosity of the Japanese Government and cooperation of the Federal Government, who facilitated the funding. The new complex, he explained, would be a manifestation of the NIA's policy to improve the fisheries sector's production and distribution system.
"Our fishery industry, as we are aware, is in dire need of a stimulus that would not only strengthen the sector bit also sharpen the skills of our entrepreneurs so that they can be more competitive in the regional and global markets.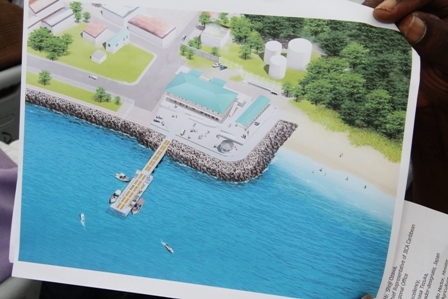 "This project will further solve some of the operational difficulties that currently hamper the sector. Following this signing and exchange of notes, we can thus begin to think of a sector with a stable supply of fresh fish, a sector that offers greater linkages to our tourism product and a sector that allows for the improvement in sale and distribution of marine products on Nevis," he said.
A gracious Mr. Hector, also use the opportunity to commend his predecessors for what he described as their contribution to the process but also pointed to those who sort to stall the project.
"Today I seek to pause to recognise the contribution of the former ministers of agriculture Mr. [Malcolm] Guishard and Mr. [Livingston] Herbert. Sadly, there are many others who seek to rob our fishermen of this dream.
"The project commenced in their time but gave me and my Ministry an opportunity to redefine and strengthen a project of this magnitude. A project that meets international standards and a project that raises hope for our local fishermen. Permit me also to offer thanks to Captain Anslyn our former Director of Fisheries for his work in the initial stages of this project, Permanent Secretary Mr. Pearlivan Wilkin, Mr. Audra Barrett and Dr. Anthony. We owe a debt of gratitude to these forerunners," he said.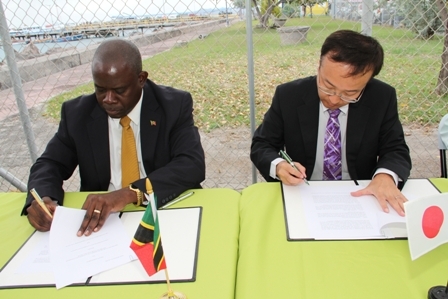 Notwithstanding, the Agriculture and Fisheries Minister hastened to add that the grant was not the first assistance given to Nevis and spoke of the productive relationship between the NIA and the Japan International Cooperation Agency (JAICA).
"We have had a history of cooperation and assistance in tourism, education, youth and social development. Our cooperation initiatives are captured under the Japan Caribbean Community (CARICOM)) Agreement which provides assistance to member states. I want to express gratitude to you Ambassador for your country's support in these areas of development…
"Mr. Ambassador, as a country, as a Federation, St. Kitts and Nevis continues to be a very dedicated friend of the government and people of Japan. Let us continue our pledge for greater cooperation and development between both countries," he said in conclusion.