Nevis Government encouraged by student's recent interest in health sector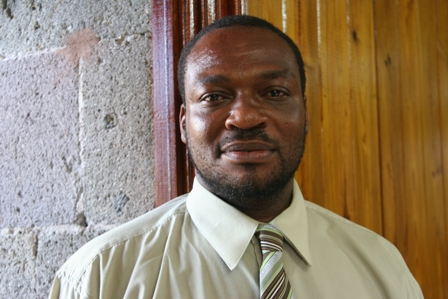 NIA-CHARLESTOWN NEVIS (September 01, 2011) —
Permanent Secretary in the Premier's Ministry responsible for Human Resources Mr. Chesley Manners, said the Nevis Island Administration (NIA), in recent times, had been encouraged by the keen interest in Health showed by the youths of Nevis, particularly in the area of Medicine, Medical Technology and Pharmacy.
He made the disclosure in an interview with the Department of Information on Thursday, just days after Youth Services Coordinator in the Ministry of Social Services Youth Affairs Division Mrs. Diana Pemberton, announced that at least 25 students had applied to the Summer Job Attachment Programme for placement in the area of health.
A total of 12 were selected, 11 of whom spent the six week programme at the Alexandra Hospital and one at the Dental Unit in Charlestown.
"We are of the view that a healthy nation can result in a more productive society which in turn would positively impact nation building…
"Of course, one would be even more delighted to see larger numbers of persons registering an interest in the Nursing profession. We can never overemphasise the fact that our nurses continue to play a very important role in the delivery of primary health care to our citizens," he said.
According to Mr. Manners, a continued concerted effort must be made to ensure that adequate attention to other areas among them Radiography, Dentistry, Health Education, Environmental Science, Dietetics and Psychiatry.
He said at present the NIA had assisted two students pursuing Veterinary Medicine, at least 12 in Human Medicine, one in Pharmacy and two in Medical Technology at at learning institutions in the English and Spanish speaking Caribbean and in the United States of America.
Meantime, Health Services Coordinator and Matron at the Alexandra Hospital Mrs. Aldris Dias also publicly commended the 11 students of the 2011 Summer Job Attachment Programme, who had shown an interest in pursuing careers in health.
At the programme's closing ceremony earlier his week she said she was extremely delighted over the prospect because over the years not much interest had been shown by students in the area of health and in particular Nursing.
"I am very proud today that we have had quite a few of them – four of them who expressed their interest in Nursing – so we will be guiding them along the line some are in 4th Form some are in 5th Form and some are in the 6th Form but we will be following them up…
"One of the things that we inculcated into them to let them know that before they become all those things, they have to have the basics of life, things that will help them in their life long careers as people, as persons… values of honesty, respect, respect for self, respect for your colleagues, respect for persons in authority over you, we also spoke about regularity and punctuality to duty," she said.
The Head Nurse on Nevis said the interns were also taught the importance of punctuality to duty in Nursing and health which could save a life and the significance of confidentiality and privacy of patients and clients in the health sector and they experienced the value of teamwork.
"We had some persons in the Laboratory where you have your blood test done. They went to the Radiology Department that is the X-ray Department and your ultrasound. They were able to go to the Pharmacy, they were able to work in the Administration section of the hospital, Nursing, Physical Therapy.
"We specifically made sure that each one of them went to the Flamboyant Nursing Home because nowadays we are not taking care of our elderly persons, so we wanted then to get a feel," she said.