Nevis Government grateful for electrical equipment donated by Japanese agency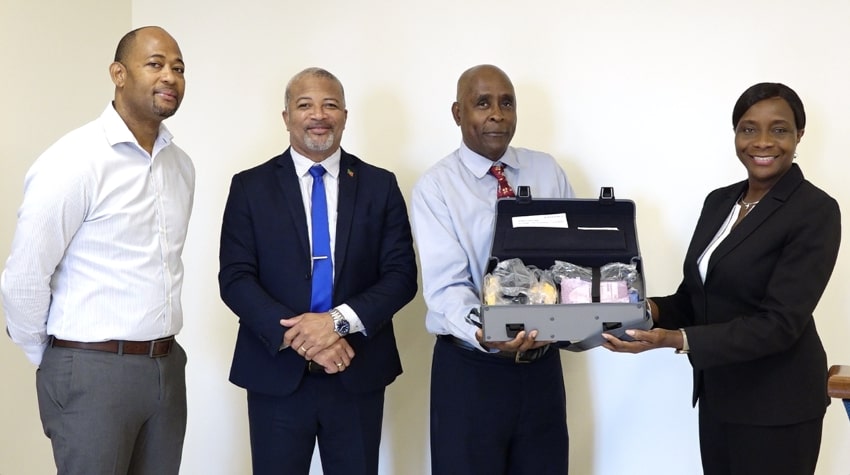 NIA CHARLESTOWN NEVIS (February 02, 2023) – The Nevis Island Administration (NIA) has a received a valuable piece of electrical equipment from the Japan International Cooperation Agency (JICA) which will help enhance the Nevis Electricity Company's (NEVLEC) data analysis capacity.
Hon. Spencer Brand, Minister of Communications and Planning in the NIA, accepted the portable datalogger on behalf of Premier Hon. Mark Brantley, Minister of Public Utilities and Energy. During a brief handing over ceremony at the Cabinet Room, Pinneys Estate on January 31, 2023, Hon. Brand expressed his gratitude to the government and people of Japan.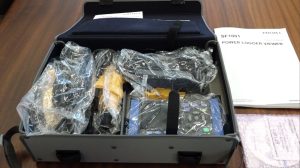 "I want to use this forum to express our sincere thanks on behalf of the Premier and the people of Nevis for this very tangible donation. I believe that NEVLEC will find this piece of equipment very important because it will be able to give them some critical data in analyzing their supply, in analyzing their distribution and I believe at the end of the day it will [redound] to a much better service for the people of Nevis," he said.
A datalogger is a specialized electronic device used for monitoring and recording electricity usage, to help provide information about altering energy behaviour and improving energy efficiency.
The equipment was handed over to Mrs. Roma Hanley-Merchant, Financial Controller at NEVLEC, who also noted her  appreciation for the donation. She said the datalogger will be used to conduct NEVLEC's energy audits and validate the energy-saving measures that have been put in place. She recorded her gratitude for the fully-funded training opportunities afforded several NEVLEC employees.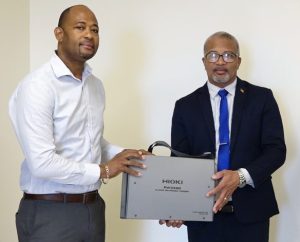 "We are also grateful to JICA for partnering with NEVLEC in improving our capacity in terms of training under the JICA Empowerment Program. We look forward to a long and rewarding relationship with JICA and the people of Japan and again we say thank you," she said.
Mr. Stedmon Tross, Cabinet Secretary and Chairman of the Board of Directors for NEVLEC was on hand to issue his words of thanks on behalf of the utility company as well.
Director of the Department of Physical Planning and Environment, Mr. Deora Pemberton, who accepted the datalogger on behalf of the NIA while attending a recent JICA training session in Barbados, said over the past few months several persons have so far benefitted from the training offered by the agency.
"Over the last four months the Japan International Cooperation Agency has been offering technical support to St. Kitts and Nevis. Here in Nevis the participants of this training included the Physical Planning Department, the Water Department and NEVLEC. The training that was offered was in the area of energy efficiency, renewable energy and grid stability. The training was undertaken in various forms, including in-person and online."
The government of Japan through JICA continues to offer technical support to the Federation by providing further training in field assessments and analysis, which will be done in Tokyo in April 2023.