Nevis Government Official calls for end to discrimination against older persons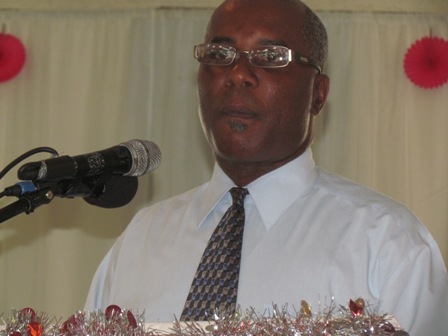 NIA CHARLESTOWN NEVIS (OCTOBER 02, 2012) — Permanent Secretary in the Ministry of Social Development Mr. Alsted Pemberton called for an end to age discrimination, abuse, neglect and violence against older persons.
His appeal came when he delivered welcome remarks on October 1st the United Nations designated International Day of Older Persons under the theme "Longevity : Shaping the future", at an annual luncheon hosted by the Ministry's Senior Citizens Division to mark the event at the Occasions Entertainment Centre at the Pinneys Industrial Site.
"I want to make an appeal to all of us as a people to put an end to age discrimination, abuse, neglect and violence against older persons. Let's join forces and show our love and appreciation to them by supporting, protecting and caring for them, so that they could live in an environment that enhances their capabilities and foster their independence as they age.
"May God continue to bless our seniors in a very special way as he adds years to their lives and we in turn add life to their years," he said.
Mr. Pemberton pointed to the vibrancy and contentment exhibited by the seniors present and said it warmed his heart to see how lovely they looked. He said it was a clear indication that the Nevis island Administration through the Seniors Division of the Social Services Department had been doing an exceptional job which ensured that the seniors on Nevis grew old gracefully.
Notwithstanding, as he commended and congratulated the Seniors Division for their exemplary work with the seniors, Mr. Pemberton said one could not forget the unstinting work of former Minister of Social Development Hon. Hensley Daniel for the seniors.
"There is no doubt that Mr. Daniel's DNA is stamped all over the programs implemented for our seniors, and he deserves to be highly commended. May I remind us, that under his watch, there has been a 50 percent increase in the number of Community Caregivers assigned to outreach work with shut–in seniors and elderly in need of care and interaction in all parishes in Nevis.
"The Seniors Recreational Programme has been expanded to cover all parishes, a Golden Years Steel Orchestra has been established and the celebration and recognition of seniors on achieving significant milestones on television has become common place and I could go on and on. Clearly, the lives of our seniors under the Hon. Hensley Daniel have truly been transformed since 2006," he said.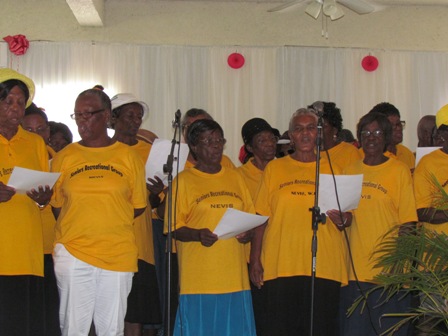 Mr. Pemberton noted that as they celebrated the seniors it was noteworthy to take stock of some statistics presented by the World Health Organization (WHO) which stated that in the next 50 years the number of older persons in the world would grow from 600 million to 2 billion. In 2012 one in every 10 persons was 60 years and over and by 2050 it would be one in three.
"The question is what do these figures mean to us as we celebrate the International Day of Older Persons? It means that in the future our seniors population will increase and as such we in Nevis must continue to raise awareness of the impact of our aging population and the critical need to ensure that our seniors who are here today and those who are not, can grow older with dignity and continue to participate fully in society as ordinary citizens.
"Let's not ask them to move out of the way because young people are coming through as some amongst us want to do, since they are the cornerstone of our country. [They] have made and are still making significant contributions to society through volunteer work, transmitting experience and knowledge from generation to generation, helping families with caring responsibilities and participation in paid labour," he said.