Nevisians should be able to work freely anywhere on the island, says Premier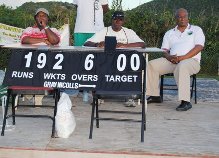 Charlestown, Nevis (Monday, October 1, 2012) —
Premier of Nevis, the Hon. Joseph Parry, has announced that seventy-five persons will shortly be employed by Canadian Global Investment Ltd in Prospect and has said that persons from other villages are eligible to apply for those jobs.
Clearly referring to one of the unsavory elements of the gang culture, the Premier said, "Just now, we will be employing some seventy-five persons in Prospect, and I have already been hearing that some people from some villages in Nevis cannot go to Prospect to work," Premier Parry said on Sunday night (September 30) at the Flats Recreation Grounds in Cole Hill, St. Johns.
Premier Parry was speaking in his capacity as Minister of Sports during the closing ceremony of the inaugural Development Bank of St. Kitts and Nevis-sponsored Ministry of Sports Wind Ball Tournament.
"We want to break that down. We want everybody to be able to go anywhere they want to go. Not only the women should be able to do so, but the men as well."
"We want for everybody to socialize, and we want peace and harmony between the people from all over the island," said Hon. Parry. "So this (the cricket tournament) is a form of bringing people together, so we could get rid of this type of behavior, and I am hoping that many of you here tonight will be able to work with those seventy-five persons."
He told the mammoth gathering that it has always been his aim to not only promote cricket, a sport in which he has been involved in all his life, but to also bring people together. He congratulated the former Minister of Sports in his Nevis Reformation Party (NRP) led Administration, Mr. Hensley Daniel, and the Director of Sports, Mr. Trevor Chapman for organizing the successful tournament.
Seventeen male teams representing every parish on Nevis, and two women teams participated in the tournament. S.L. Horsfords Empire Sports Club of Hanley's Road beat Church Ground Massive in the thrilling final to lift the trophy, and take home $2,000 in prize money.
"I am very pleased tonight to have been here, and to have witnessed the matches," said Parry. "I have been here several times, and I must say that I have put all my support behind Mr. (Hensley) Daniel to get this field into good condition, so that we can have first class cricket here." For decades an uneven field with many outcrops of rocks on the site of the Elizabeth Primary Primary School, the Flats is now as flat as a billiard table and one of the more fancied grounds on Nevis. Parishioners and others have been heard to remark, that the NRP and Hensley Daniel "flattened the flats". The ground was also fully lighted under the NRP.
The Premier said that it was his government's wish to give every Nevisian the chance to play cricket, and while congratulating Empire Sports Club for winning, he reminded them that he is the one who made arrangements for them to have a proper playing ground at the bottom of Hanley's Road in Gingerland.
He said that even though the Church Ground team did not win, he was extremely happy that they are playing cricket at a high level, and were able to secure the second position. He advised the people of Pond Hill, Cox and Cole Hill to continue using the facility at the Flats until they can have a ground closer to home.
"I want to thank the Development Bank for supporting cricket," said Premier Parry, "the Development Bank has done many things on the island of Nevis, and it is good to see that they have involved themselves in cricket."
The Development Bank of St. Kitts and Nevis was represented at the closing ceremony by acting General Manager of the Nevis Branch Office, Ms. Hyacinth Pemberton, who also presented trophies to the winning teams.