Nevis' government-owned preschools get learning tools to better integrate technology in classrooms
NIA CHARLESTOWN NEVIS (February 14, 2023) — The five government-owned preschools on Nevis are being given the opportunity to better integrate technology in the classrooms.
Hon. Troy Liburd, Minister of Education, made presentations of a 42-inch Samsung television and mobile stand to the St. John's, Charlestown and Inez France preschools on February 10, 2023, with presentations to the Combermere and Gingerland preschools expected next week.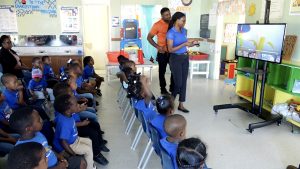 During his first presentation at the St. John's Preschool, Mr. Liburd spoke of the significance of the new electronic equipment for staff and students.
"It forms a part of the Education Ministry's thrust towards bringing technology into the learning experience of our children… It gives us the opportunity to enhance the children's learning experience; you know children learn by what they see.
"We also have internet service here at the school so the teachers would be able to access YouTube. You know that there is a wealth of things that's on YouTube – nursery rhymes and all of the other teaching tools that are out there on the internet. So I'm very happy that we were able to deliver this for the school this morning, and it is just a step in the right direction to where we want to go with education here on Nevis. Education starts with the youngest ones and goes all the way up. So this is a step in the right direction," he said.
Minister Liburd added that the plan is to extend the presentations to privately owned preschools throughout the island in the future.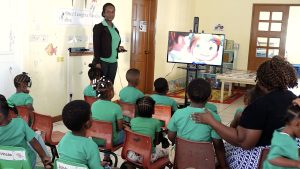 "We are also looking towards doing something for the private preschools on Nevis but that would be a second phase.
"This will allow us to introduce a little bit of technology into the learning process. We have the television and we also have a mobile stand so the television would be able to move from class to class to assist the various teachers here at the school," he said.
Meantime, Mrs. Dawnny Lanns, Education Officer responsible for Early Childhood Development, expressed gratitude to the ministry for the equipment.
"I know that as we are moving into [Science, Technology, Engineering, and Mathematics] STEM technology and with all of the technological improvement that this television would indeed be beneficial to the students and the teachers as they can now use technology a bit more within the classroom," she said.
The supervisors at all three schools expressed gratitude for the gesture and for the impact the televisions would have on the delivery of lessons to the preschoolers.
Mr. Kevin Barrett, Permanent Secretary in the Ministry of Education, accompanied Minister Liburd. Also present were Ms. Lisa Lee, Early Childhood Coordinator; and Mrs. Brenda Smithen-Williams, Resource teacher, Early Childhood.