Public Works officials thank Department employees for hard work, encourage greater productivity in the new year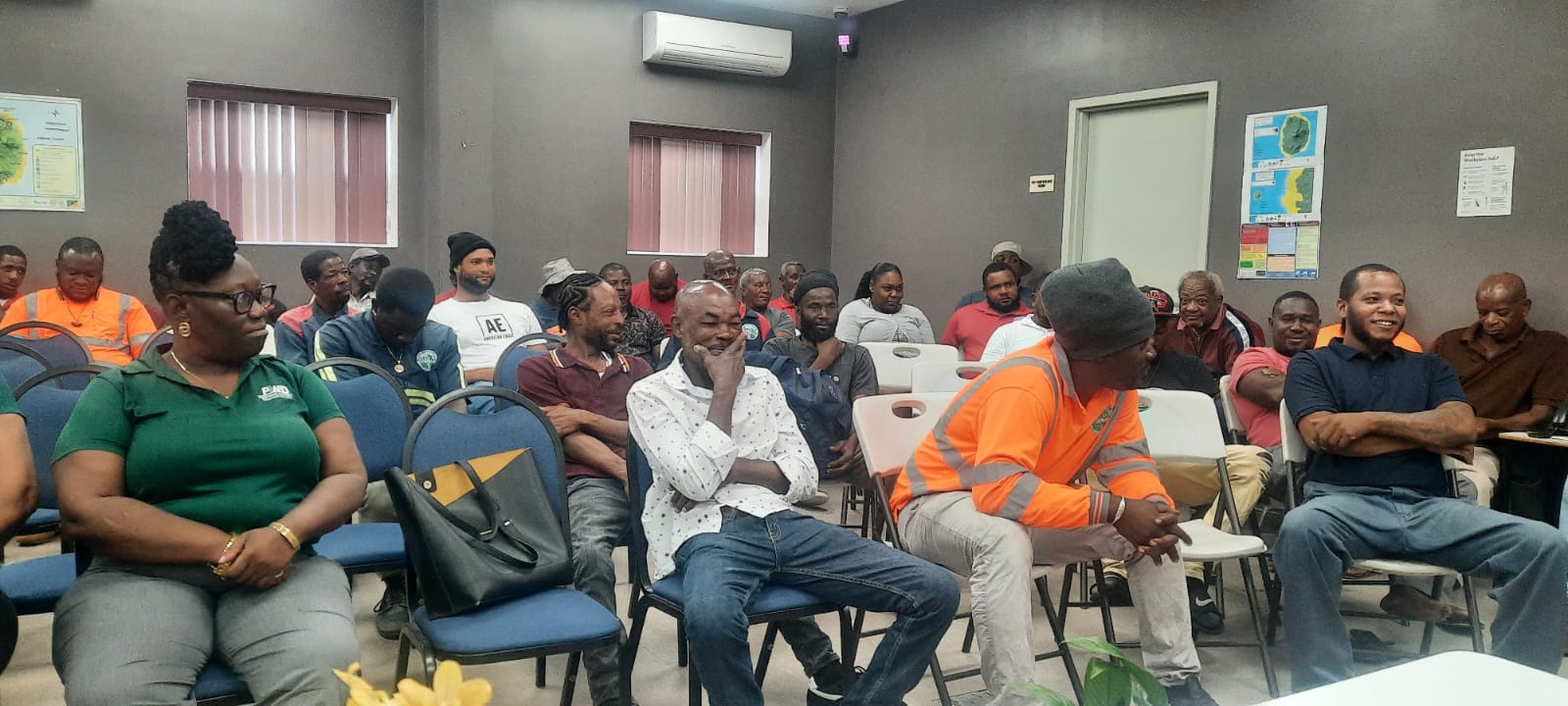 NIA CHARLESTOWN NEVIS (February 14, 2023)- Hon. Spencer Brand, Minister of Communications and Works in the Nevis Island Administration (NIA) has expressed his gratitude to employees of the Public Works Department (PWD) for their contribution to the maintenance and development of the physical infrastructure across Nevis.
Addressing a gathering of field workers at a welcome forum held at the Nevis Disaster Management Department conference room on Monday, February 13, 2023, Minister Brand welcomed the PWD employees back to work for the new year.
"Welcome back for 2023. The first thing I want to say is thanks. I want to thank all of you for the hard work you have exhibited over the years as an employee of our Public Works Department. From the Ministry's point of view we pledge our commitment and support to you as individuals to make sure that you are taken care of. The Cabinet would have outlined a very ambitious agenda for 2023 and for the next five years. I wondered if we could meet that commitment but I know that we have the capability and capacity within this Department to achieve it, so let us continue to work together as a team.
"You have my support, you have my commitment, and I want to see to it that Public Works Department continues to grow from strength to strength and develop the island of Nevis. The ultimate mission and vision is to develop and build Nevis and every single one of you has a role to play in that development," he said.
He highlighted teamwork, respect for each other, pride in their work, accountability, and open lines of communication between management and staff as being critically important for them to function properly as a Department.
Delivering comments at the forum, Mr. Jevon Williams, Director of the PWD, also thanked the workers for their contribution. His remarks centered around the theme of making the PWD more progressive, noting a retooling of the human resources in the Department, providing more opportunities for training, and improving the physical infrastructure of  its assets. He addressed the need for more dependable vehicles for the Department and the need to utilize tools so that employees could work smarter instead of harder and therefore become more efficient.
Acting Permanent Secretary in the Ministry, Mr. Denzil Stanley and Operations Manager Mr. Danny Williams were also present at the forum, along with other supervisors.
A contingent from the Public Works Department on St. Kitts attended the forum and extended an invitation to their counterparts to join the SK PWD on an upcoming fun trip to St. Maarten on the Easter Weekend.
Guest presenters included representatives from the Social Security Scheme discussing work injury benefits, and the Department of Labour speaking on workers' rights and related labour matters.