Nevis Health Minister encourages consistent health care among OECS territories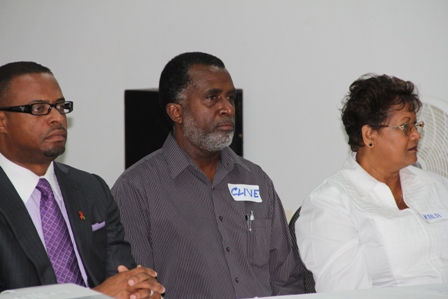 NIA CHARLESTOWN NEVIS (March 27, 2013) –
Deputy Premier of Nevis and Minister of Health in the Nevis Island Administration (NIA) Hon. Mark Brantley said he saw no reason why a national from St. Kitts and Nevis who relocated to another Organisation of Eastern Caribbean States (OECS) territory should not expect to receive the same standard of health care from their new physician in that territory.
He was at the time delivering remarks and officially opened a one-day workshop on Sensitization on the OECS HIV/STI Guidelines. It was hosted by the OECS Secretariat HIV/AIDS Project Unit (OECS/HAPU) in collaboration with the Ministry of Health in the Nevis Island Administration and the Regional Coordinating Unit, Caribbean HIV/AIDS Regional Training Network (CHART RCU). The event was held at the St. Pauls Conference Centre in Charlestown on March 26, 2013.
"It is an accepted fact that there is frequent movement of Caribbean peoples along this great archipelago of islands for various reasons including leisure and employment.
"There is no reason why a national of St. KittsandNevis cannot relocate to St. Lucia, for example, particularly with the free movement of skilled personnel facilitated by the Revised Treaty of Basseterre establishing the OECS Economic Union and not expect to receive the same standard of care from his new physician in that OECS territory," he said.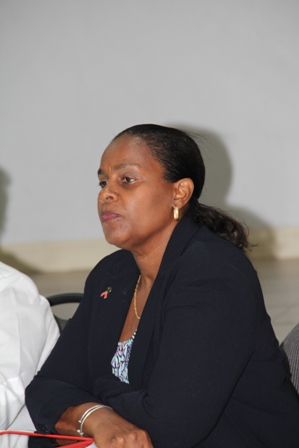 In addition to addressing the standards of care, Mr. Brantley said he understood that the soon-to -be – published OECS Guidelines had proven to be a living instrument for clinicians changing to incorporate new challenges that impacted disease management.
"Chief among those concerns is the management of other sexually transmitted infections such as herpes which can fuel the transmission of HIV infection," he stated.
However, in an effort to provide an optimum level of healthcare for all in the population, the Nevis Island Administration's Ministry of Health would continue to invest in human resources for health. He said the workshop, which was also held in St. Kitts the day before, would provide clinicians in the Federation with updated knowledge and skills that would effectively manage those diseases.
The Health Minister urged the doctors, nurses and allied health professionals who were in attendance at the workshop to embrace the knowledge that would have been imparted to them by the facilitators.
"As you engage in the various sessions, I ask you to keep this global theme for World AIDS Day 2011-2015 in mind: 'Getting to Zero: Zero new HIV infections, Zero Discrimination and Zero AIDS related Deaths'.
"You are critical to the attainment of these goals which will result in good quality of life and health to those infected and affected by HIV/AIDS, which will undoubtedly result in an increase in the health and wealth of our great nation," he said.
Mr. Brantley also used the opportunity to thank the OECS HIV/AIDS Project Unit and the Global Fund for HIV/AIDS Tuberculosis and Malaria whom he said continued to support capacity exercises like the workshop in this part of the world where resources for HIV/AIDS continued to dwindle.
"These partner organisations continue to facilitate the accessibility of antiretroviral medications to persons enrolled in our Treatment and Care Programme," he said.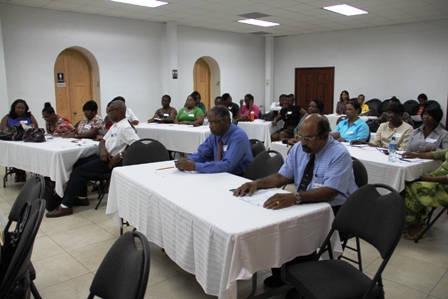 Facilitators for the workshop were Clinical Coordinator, CHART RCU, University of the West Indies, Mona Campus in Jamaica Dr. Clive Anderson, Clinical Care Coordinator, Medical Officer of Health in the Ministry of Health on Nevis Dr. Judy Nisbett and Senior Programme Officer of the OECS/HAPU Ms. Kala Dowlath.