Nevis Island Administration endorses Operation Future's Creative Youth Academy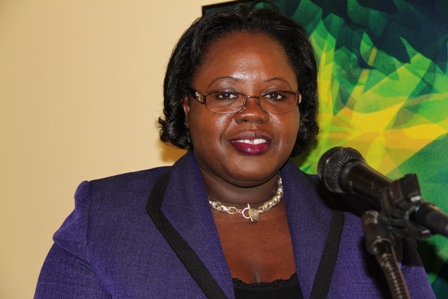 NIA CHARLESTOWN NEVIS (October 29, 2013) — The official opening of the Creative Youth Academy at Cotton Ground Village on October 26, 2013, signalled the level of seriousness with which the Nevis Island Administration (NIA) continued to deal with criminal elements on Nevis. That was the view expressed by Junior Minister of Social Development and Youth Hon. Hazel Brandy-Williams, when she delivered remarks at a ceremony to mark the facility's opening.
The NIA had partnered with Operation Future for the successful completion of the Academy which had taken four months. The facility which had been abandoned for many years, had been used prior as a police station for the parish of St. Thomas. The new facility will feature an audio/video recording studio, a band room which will also be used as a classroom, activity room, counselling and meeting room.
"The Nevis Island Administration is partnering with Mr. McMullen in the successful completion of this academy. This opening here this afternoon is an indication that the Administration is very serious in dealing with the criminal elements that is cropping up its head in our beloved Nevis.
"The staging of CCTV around Charlestown was one initiative and this is a second initiative that we are trying to see how best we can restore Nevis to its once peaceful and lovely island," she said.
Mrs. Brandy-Williams urged persons to volunteer at the facility since its success would depend on volunteerism.
"I am asking for volunteers, I am echoing the sound of Mr. McMullen that we indeed need volunteers to keep this institution afloat.
"The successful development of this institution is dependent on the volunteerism of many and based on this, we will probably see a number of such institutions being opened across Nevis. I must say special thank you to Mr. McMullen for his foresight in starting this institution," she said.
The Minister explained that earlier in 2013, Mr. McMullen who is a member of Operation Future had approached the Administration with a proposal that would transform the building and provide the youth of Nevis with an avenue through which they could remain meaningfully engaged in their spare time.
However, she stated that although the target group was for children at risk, the facility would serve youths beyond that group, since all children were exposed to some level of risk in their daily lives.
"Even though the target group, as we deem it, are for youth at risk, we recognise that all youth are at some level of risk in their lives and as such, the facility will be accessible to all youth in the area.
"The attraction of the Creative Youth Academy is that it appeals to a major area of interest for all youth and that is music. As we say, music is a universal language and we feel that we could empower our youth through music. Young people now have a place where they can come and play any instrument of their liking; with the vast array of instruments they can also produce their own music videos and in time we will be able to view them via You Tube and other social media," she said.
According to the Minister, the facility had the potential to help parents see and show the youths what their potential was and guide them into positive avenues in which they could develop their area of expertise. In the end she said parents and other members of the community would be proud about the work their children were able to produce through the Academy.
Mrs. Brandy-Williams added that at times adults had a tendency to give up on the youth but she was certain that with their involvement in the Academy would change that sentiment.
"I am certain that their involvement in this Creative Youth Academy will show us that they indeed are bright spots for the future of our children in Nevis and so we ought not to give up on our children. However we ought to encourage them as far as possible so that they can develop their creative skills in different art forms," she said as she wished the institution success and the participation of all.
Among those present were Premier of Nevis Hon. Vance Amory and Area Representative Hon. Joseph Parry, who cut the ribbon to officially open the facility; members of Operation Future; Assistant Secretary in the Ministry of Social Development Ms. D. Michelle Liburd and Coordinator of Youth Development in the Department of Youth and Sports Ms. Zahnela Claxton.