Nevis Premier Brantley urging public to take advantage of Property Tax Amnesty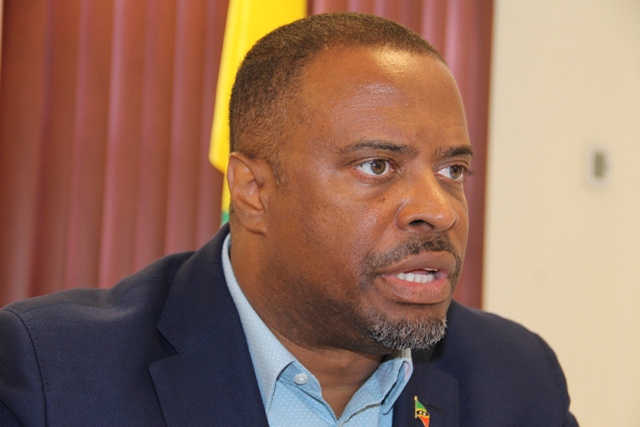 NIA CHARLESTOWN NEVIS (June 19, 2018) — Hon. Mark Brantley, Premier of Nevis and Minister of Finance, is urging members of the public who owe Property Tax to take advantage of the amnesty being offered by the Nevis Island Administration (NIA) in conjunction with the Tax authorities in St. Kitts.
Mr. Brantley, made the call about the month-long amnesty, when he spoke to the Department of Information at his Pinney's Estate office on June 18, 2018.
"We are asking tax-payers to be responsible. This is an opportunity for them to alleviate their own difficulties, in terms of any difficulties and interest charges, and we are asking them, please, to come in during the working hours of the Inland Revenue Department (IRD) between June 1st and June 30th and benefit from this tax amnesty.
"This is an effort by the Inland Revenue Department and the Nevis Island Administration to have our people regularise their status. Hopefully, by removing the penalties and interest charges, it allows them to better arrange their affairs and their fiscal affairs and their tax affairs going forward," he said.
The Premier noted that after discussions with the IRD in St. Kitts, the underperformance in the area of Property Tax was brought to light. The administration subsequently took the decision to offer an amnesty period as a means of assisting delinquent property owners, as it has proven to be a successful method of tax collection in other jurisdictions.
"This is something that we are attempting and we are asking the public to really respond. It is in their interest because certainly if they don't pay then the amounts that they will owe will continue to increase…The actual Property Tax will still be owed but we will waive the interest and penalties over $100.
"So we encourage you to take advantage of that…After June 30th if they don't come in during the relevant period, then the interest and increasing penalties will reapply and so they go back to where they would have been," he said.
Apart from providing an opportunity for the delinquent Property Tax payers to regularise their status, Mr. Brantley stated that the amnesty also serves to encourage the public be responsible citizens.
He said the NIA will partner with tax payers and make it as easy as possible to pay their taxes. Once taxes are paid, the administration would be better placed to meet the demands for better airports, roads, electricity, water supply and healthcare, among other services.