Nevis Premier denies allegations regarding Land for Debt Swap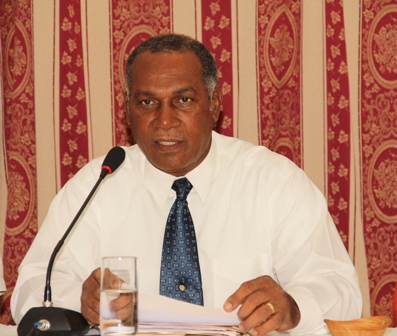 NIA CHARLESTOWN NEVIS (November 8, 2013) — Premier of Nevis and Minister of Finance in the Nevis Island Administration (NIA) Hon. Vance Amory has denied allegations that the Concerned Citizens Movement (CCM)-led NIA had signed an agreement to finalise a Land for Debt Swap, a transfer of lands from the NIA to the St. Kitts-Nevis-Anguilla National Bank Ltd.
Addressing an audience which attended a town hall meeting held by the NIA on November 7, 2013, at the Red Cross Building in Charlestown, Amory dismissed the allegations as an attempt to pass blame. He explained that the current NIA had in its possession a resolution which indicates that it agreed with a document to transfer lands, which former premier the Hon. Joseph Parry and his Administration, had signed on April 18, 2012.
"I get a sense that the NRP Administration, having dug Nevis into a debt trap and having agreed in that document signed on the 18th of April 2012, is now seeking to transfer the responsibility for that agreement to CCM but we won't accept that agreement because we did not sign that agreement.
"We have not signed any land swap or any land over or any title for any land. We have not. There's a resolution here which just speaks to what was signed already. We have not signed over any land. That's the fact of the matter," Amory said.
According to Amory, the NIA is currently negotiating with the St. Kitts-Nevis-Anguilla National Bank Ltd. the way forward on the agreement to determine how to extricate Nevis out of what he termed as a "debt trap."
"In this very room…we were told by the Financial Secretary of the Nevis Island Government then that the island was bankrupt. I think all of us remember that statement and then he spoke also at that time, about this special purpose vehicle to be set up to sell land to pay the money to the bank for the debt in which it had been driven.
"Now we were told that there was the intention to swap land for debt. Nobody indicated to us that there had been an agreement signed, not to the people of Nevis, concluded, agreed to, signed and delivered. So when we got into Government in January, we were met with a situation which was already a fait accompli, completed, signed and delivered and we have been negotiating around this matter, trying to find a way of dealing with this debt trap in which we were sunk," Amory said.