Nevis Tourism Industry to soon benefit from premium beef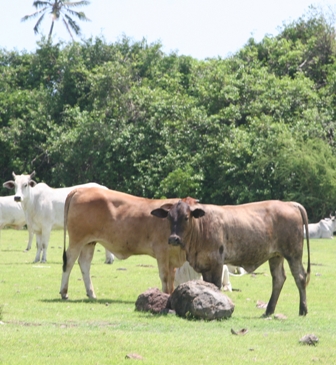 Some of the new livestock that will head to the government owned Abattoir late December. They are expected to deliver prime meats Nevis' Tourism Industry
CHARLESTOWN NEVIS (September 24, 2010) — The Tourism Industry on Nevis stands to soon benefit from a breeding programme at the Government owned farms that have successfully produced premium livestock. The disclosure came from a top Agriculture Official on Wednesday.
The Nevis Island Administration's (NIA) Permanent Secretary in the Ministry of Agriculture Dr. Kelvin Daly, told the department of information while on a field trip to the Indian Castle Livestock Farm with Minister of Agriculture Hon. Robelto Hector, the new livestock will change the quality of meats available from the Department later this year.
According to Dr. Daly, when the new stock is slaughtered in December, the quality meats will be comparable to any imported choice cuts from overseas.
"The quality meat means everything to the Tourism Industry…What this experiment is showing us we can get a quality beef at a much younger age and meet all the specifications that the hotels demand in terms of marbling, texture, taste and of course tenderness.
"I think the hoteliers will be quite pleased when they see the type of products that are coming out from the Abattoir to their plates. It will be able to compare with anything coming from overseas. The proof is going to be in the pudding come December, when we start doing the slaughtering of these animals," he said.
Dr. Daly noted that in the past, when the Department of Agriculture tried to sell its products from the Abattoir to the island's hotels, they were met with several complaints from the chiefs and hotel owners among others, that the beef was too old and too tough.
About 1 ½ years ago, the Department of Agriculture had imported a bull from a farm on St. Croix to inject new life into an aging stock. So far the results have been gratifying for the Department.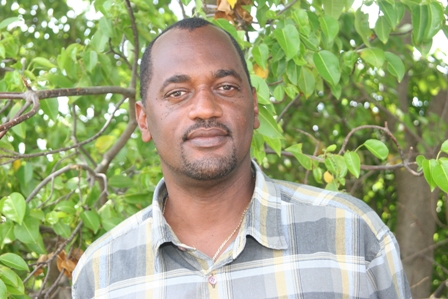 Permanent Secretary in the Ministry of Agriculture on Nevis Dr. Kelvin Daly
The Top Agriculture Official said animals bound for slaughter late December from the Indian Castle Farm, would be specially selected from the new crop of livestock.
"We would be more selective in choice cuts because they are supposed to be more superior, they get to market faster, they are tender, younger and we don't have to wait two years or 36 months for an animal to get up to 800 pounds before we can butcher it.
"We now can get them at 600 pounds in good quality and in a short period of time, superior meat and so by Christmas a lot of these animals will be heading to the Abattoir for choice cuts and those kinds of things," he said, adding that the meat from older cows that stopped breeding, would be used in the Ground Beef Programme.