Nevis Tourism Industry veterans urge youths to get involved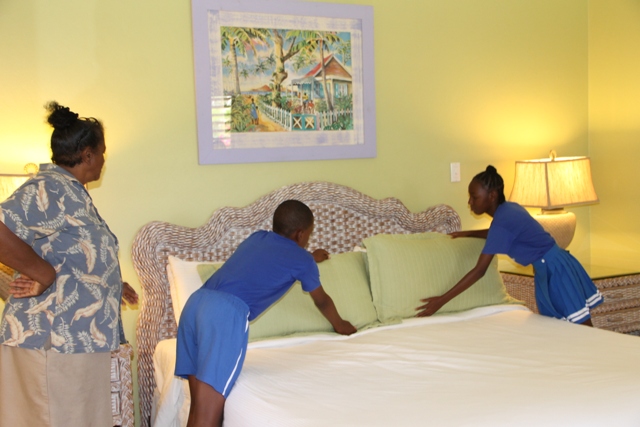 NIA CHARLESTOWN NEVIS (MAY 08, 2017) — Two Nevisian veterans in the Tourism industry on Nevis, are encouraging the island's youth to get involved the industry.
Patterson Flemming, Maître D' and Velma Jones, Head of Housekeeping at the Nisbet Plantation Beach Club who have served the award-winning establishment for over 50 years collectively, both reached out to the youths on May 04, 2017, at the end of Hospitality Immersion.
The event was a two-day exercise hosted by the Ministry of Tourism in collaboration with the Four Seasons Resort and Nisbet Plantation Beach Club. It provided an opportunity for students at the primary and secondary schools, to have and interactive experience with the hospitality industry. It is an activity in the Ministry's annual month-long tourism awareness activity Exposition Nevis which ends this year on May 20.
"I struggle every year to find waitresses and especially waiters in the hospitality industry. It is a struggle every day to find men in the hospitality industry.
"It is a good career industry and I recommend to the boys that are leaving school to venture out into tourism. I think it is one of the greatest industries you can ever find," Flemming said.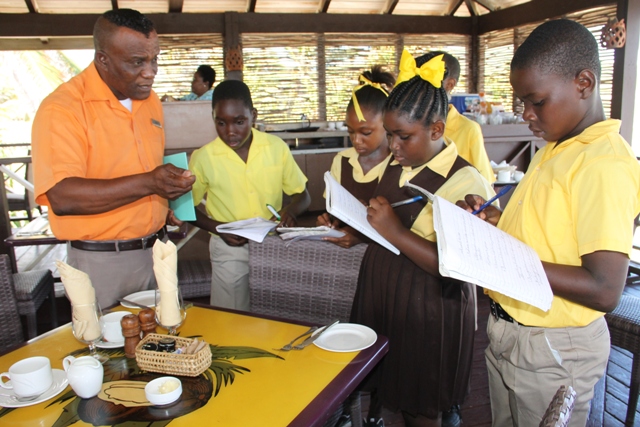 He commended the organisers of Hospitality Immersion and referred to it as a good thing. Flemming noted that tourism is the island's "bread and butter" yet canvassing the youths to join the industry was rare. He believes that the activity, with some more push towards school leavers, is a move in the right direction.
Jones said she has never missed a day of work in her tenure at Nisbet and professed her love for the industry.
"I love the hotel industry. I love to meet new faces, new guests from different parts of the world and I would encourage the young people to come on board.
"The hotel industry is a very good place to work. I love it that's why I'm here that long," she said.
Meantime, Derrick Huggins the hotel's Rooms Division Manager, added his voice to that of his colleagues. He said an injection of new blood is necessary for the industry's future growth.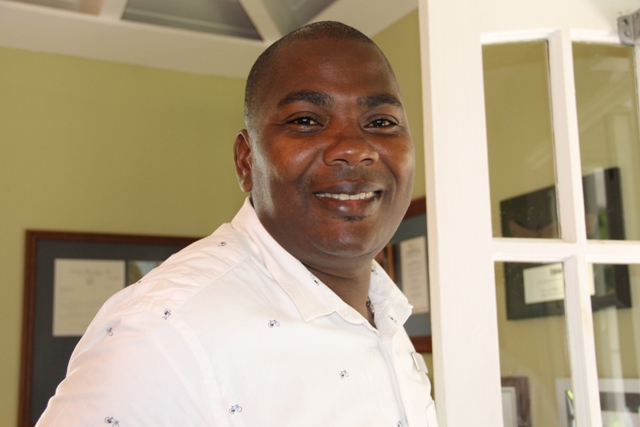 "I just want to encourage kids to really show some interest. It's the number one industry in Nevis. It is the backbone of our economy and we really need that young fresh blood and new spirit to take us onto the next frontier," he said.
Huggins, described the industry as something one could easily fall in love with. He said meeting people from all over the world with various cultures helps to engender joy and coming to work every day feels like vacation.
"You are not only helping the vacationers to have a great time but because it's such a fun and vibrant industry you feel like you are on vacation yourself," he said.