Nevisian lures her US-based cardiologist to Nevis; urges fellow Nevisians to embrace him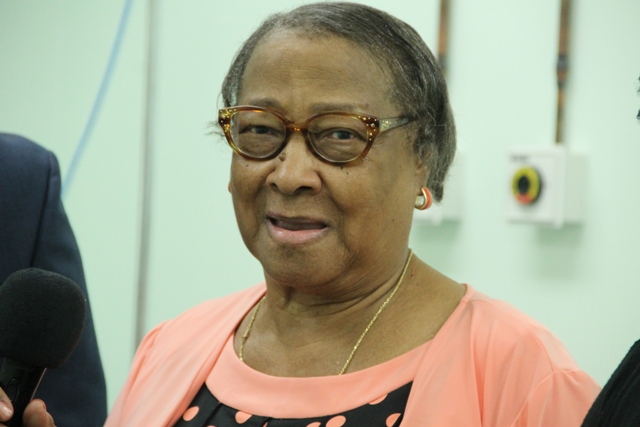 NIA CHARLESTOWN NEVIS (June 08, 2014) –Nevisian Ursula Phillip, a patient of US-based Cardiologist/Internist Dr. Charlie Rouse, urged Nevisians to embrace her doctor, whom she said had administered life-saving care to her, in his partnership with the Nevis Island Administration (NIA), to provide his services to her homeland free of cost.
Ms. Phillip who travelled to Nevis with her daughter Ursula, was on hand at the Alexandra Hospital on July 07, 2014, when Deputy Premier and Minister of Health Hon. Mark Brantley welcomed Dr. Rouse and his team who were on the island to give free medical service to the people of Nevis.
"I have to say praise God for Dr. Rouse. If it weren't for him, I don't know if I would be alive today. I tried several doctors for my treatment and for my condition and none had found out my problem but Dr. Rouse and he saved my life and from that he is just like my son.
"I respect him highly and I love him just like I gave birth to him and I love his whole family. He is a very kind, decent, respectful young man. He doesn't pass nobody on the street. He says 'Hello' if they don't want to answer it's up to them but he's not passing you. So you all treat him nice and be kind to him because he put himself out to donate his time here in Nevis and I am thankful for him and praise God I am alive through him," she testified.
Meantime, Mr. Brantley in brief remarks publicly thanked Dr. Rouse and his team for the assistance they gave to Nevis.
"I also want to thank you for the pharmaceuticals that you have kindly brought to be donated and also the equipment that you have brought. I also want to thank you for facilitating the training that we had earlier this year, the training of two of our technicians who went up to Georgia and were able to benefit.
"This for me is really historic in many ways. I think it is a really great initiative…Things are really going well and I am keen to see this unfold and to see it, sort of, take root and blossom in the ensuing years. So thank you very much Doctor Rouse on behalf of the government and people of Nevis," he said.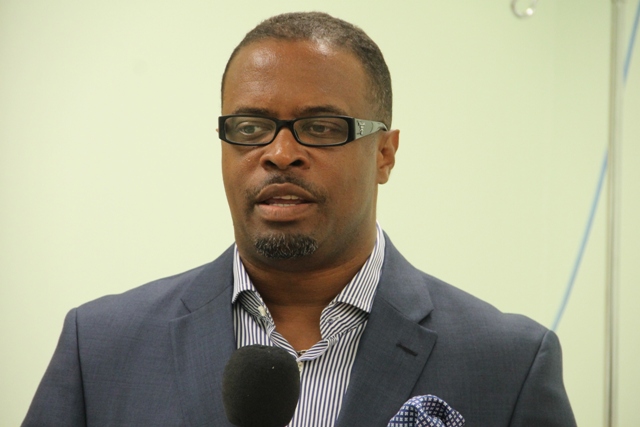 The Health Minster also spoke to how the relationship between Dr. Rouse and the NIA came about.
"Mrs. Phillip elder and a Ms. Phillip junior are both Ursula Phillip who have been really instrumental in moving this forward. I recall when Ms. Phillip got in touch and said that there was this Cardiologist Dr. Rouse and clearly, we didn't know who she was talking about but you eventually came down and saw us and we are very, very happy for this partnership.
"I have always said Nevisians abroad continue to be Nevisians regardless of where they are and so, I am very happy that all the way from Georgia you [Dr. Rouse] have come through a Nevisian who encouraged you to come and to be here with us. I think that the people here now are going to benefit from this," he said.
Mr. Brantley described the relationship forged with Dr. Rouse as critical and important to Nevis.
"These types of relationships are really critical for us. This is exactly what we are seeking to do and I want to thank you, thank your team who have come and I love to hear that this is an ongoing partnership because we would like for you to come back. We would like it to get bigger and bigger but maybe, if it gets smaller because we have fewer and fewer health care issues on the island but either way, the idea is to really commit the Administration's partnership and to thank you publicly, as I have done privately, for making this effort and to come out with this initiative.
"I should say to the people that this isn't costing them anything for them to get the advice, get the literature, get the knowledge that they need, get the care that they need," he said
The Minister also used the opportunity to urge residents of Nevis to take advantage of the cost free medical care.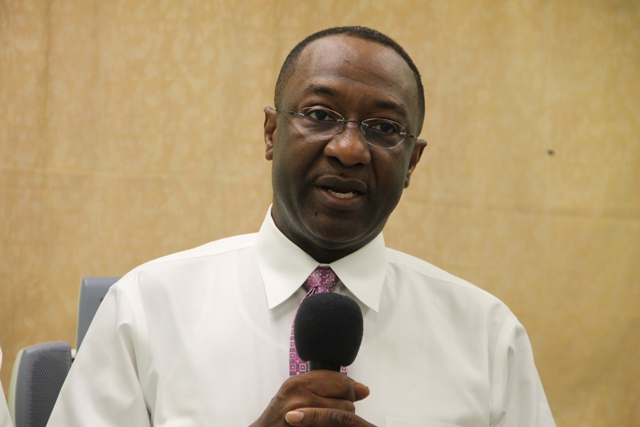 "I would like to echo the sentiments expressed by our Hospital Administrator to really encourage Nevisians to come out and people to come out generally and take advantage of the services, take advantage of the literature, take advantage of what they can learn in order to protect themselves in order to live longer, live better and healthier lives.
"We have been pushing really hard here, as part of our health care thrust, prevention, prevention, prevention, education. There is an old saying that an ounce of prevention is better than a pound of cure. Well, we have said that a dollar of prevention is worth a million dollars of cure and so we are trying to prevent our people from getting sick or getting sick prematurely and so avoid the tremendous health care cost that we are faced with as a small island," he said.
Meantime, Dr. Rouse who was accompanied by his wife and Mrs. Phillip and her daughter Ursula, in brief comments noted that he was pleased to return to Nevis.
"We are happy to be back to Nevis. I am an adult cardiologist and some years back, I had the opportunity to take care of Mrs. Ursula Phillips who is a patient of mine in the States. She talked about Nevis so much, that it encouraged me to decide to come here and participate in providing some cardio vascular service," he said.
According to Dr. Rouse, during his initial visit to Nevis in 2013 when he had an evaluation exercise he observed the high incidence of diabetes and hypertension that were diseases which lead to cardio vascular disease like heart attacks, strokes, blockage in the leg arteries among others. However the return visit would deal with official screenings: blood pressure, cholesterol and Body Mass Index.
"We are going to do those sorts of assessments and try to make a determination of whether or not, an individual has issues with high blood pressure who may or may not know they have that or whether or not an individual has any problems with diabetes.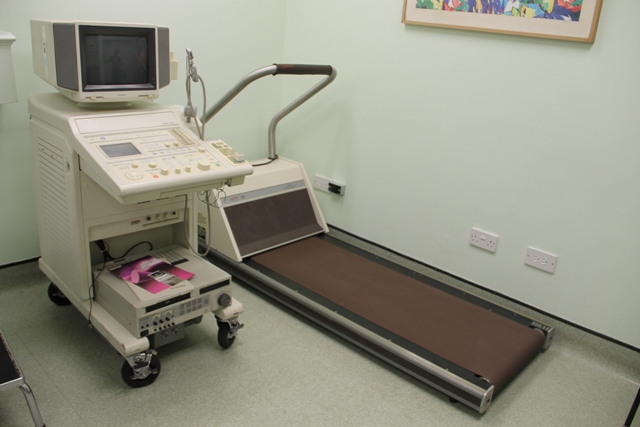 "We have some pieces of equipment that we sent in front of us actually this year to help us do some of those screenings. Those pieces of equipment are treadmill and echo cardiogram. An echo cardiogram is an ultrasound of the heart. It gives you an opportunity to look at the heart, look at the heart squeeze and determine if there are valve problems or squeeze problems, those kind of things. When you combine that with the treadmill stress test, you can get information relative to whether an individual has blockage in their heart or not," he said.
Dr. Rouse added that the relationship he had formed with Nevis would be ongoing and expressed hope that he and his team would be able to make an impact on the prevention of heart disease through early detection and early intervention.
Other brief remarks came from Hospital Administrator Gary Pemberton. Others present were Ms. Ursula Phillip, Matron Aldris Dias and Medical Chief of Staff at the Alexandra Hospital Dr. John Essien.