Nevisians in Canada Present Scholarships to Students in Nevis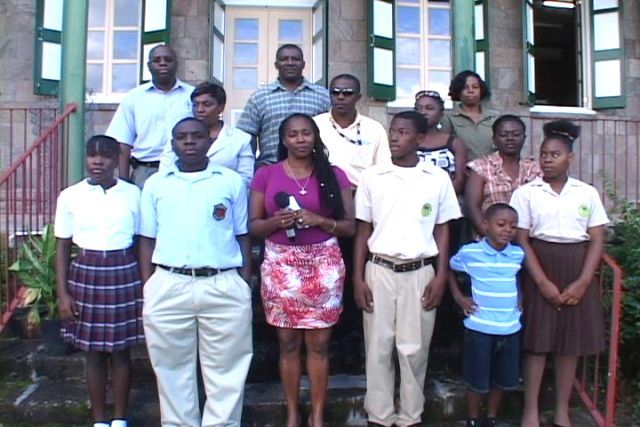 Students, school officials and parents with NEVCAN secretary Ms. Louisa Manners (front row; third from left)
NIA-CHARLESTOWN, NEVIS (January 7TH, 2011) —With just five days into the New Year, Nevisians in Canada [NEVCAN] Association has already achieved one of its main goals which is "to provide economic assistance to Nevisians in times of crisis."
The organisation, on Wednesday [Jan. 5], and in the presence of school officials and parents, presented scholarships to four students: Mr. Theo Freeman and Miss Chelsea Claxton of the Gingerland Secondary School [GSS], Mr. Shakir Claxton of the Charlestown Secondary School [CSS] and Miss Aquina Anthony of the Nevis Sixth Form College.
According to both secondary school principals; Mr. Edson Elliott and Mrs. Dawn Jeffers, the schools recommended, for the NEVCAN Association scholarship, students who had lost one or both of their parents.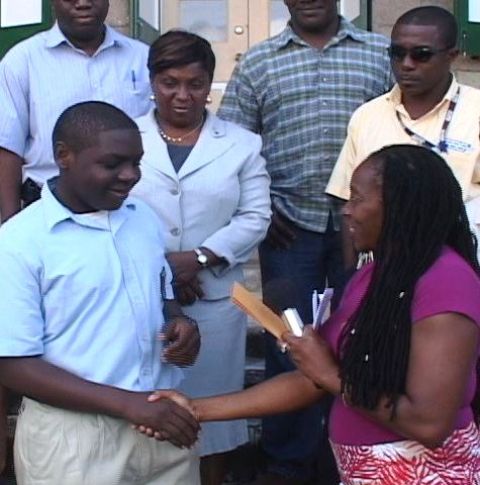 Mr. Shakir Claxton of CSS receiving award from Ms. Louisa Manners
The brief ceremony was held outside the Department of Information at Bath Hotel where NEVCAN Association secretary Ms. Louisa Manners described the students as "deserving," adding that she was pleased her organisation was able to assist students and parents.
"NEVCAN has, in the last few years, given scholarships to students who we think are deserving of these scholarships. Over the last couple of years we have incorporated our scholarships to include Gingerland Secondary," Ms. Manners said.
In expressing gratitude to the NEVCAN Association representative, Principal Elliott [CSS and Nevis Sixth Form College] commented on the superb performance of former NEVCAN scholarship recipient Miss Shelisia Glasford who, in the recent Caribbean Examinations Council [CXC] examinations, received 10 subject passes with three distinctions.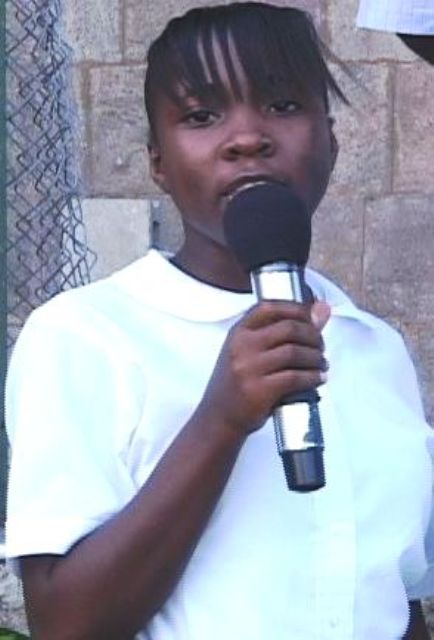 Miss Aquina Anthony thanking NEVCAN
Principal Jeffers [GSS] also said "thank you" on her school's behalf but was particularly pleased that the organisation had extended its scholarship reach students at her school.
In each of their responses, recipients Claxton and Anthony pledged to "put the money to good use" while Ms. S. Patricia Claxton who thanked NEVCAN on behalf of the parents, said she was content that it [NEVCAN] was able to assist them financially despite "these trying times" adding that "every little contribution is appreciated."
NEVCAN was established in 1978. It strives to achieve "social integration, establish a bond of unity among Nevisians in the Greater Toronto Area in particular and in Ontario in general, promote and maintain a socio-cultural link between Nevisians in Toronto and Nevis, provide economic assistance to Nevisians in times of crisis and for other specific causes deemed worthy by the Association and work in concert with other associations representing other Commonwealth Caribbean groups."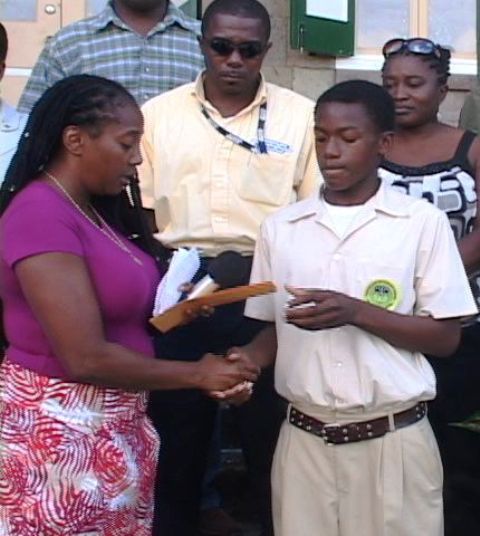 Mr. Theo Freeman of GSS receiving award from Ms. Louisa Manners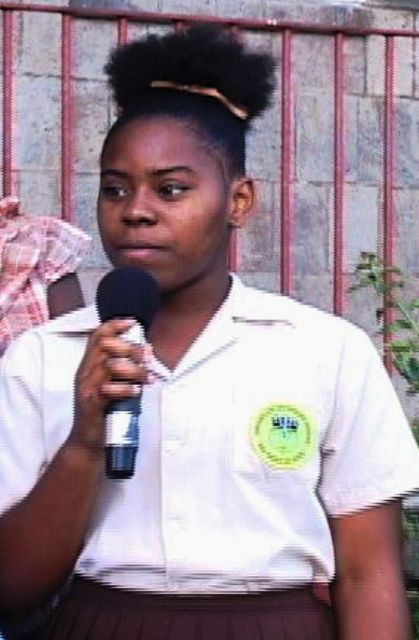 Miss Chelsea Claxton of GSS thanking NEVCAN