Nevisians urged to keep kidney disease rate down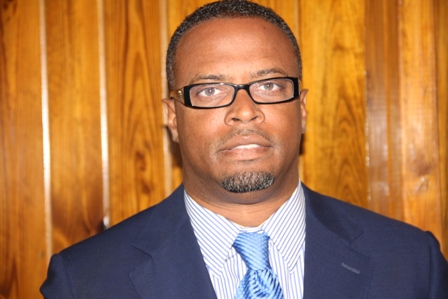 NIA CHARLESTOWN NEVIS (March 12, 2013) — In an address to herald in a week of activities of the Nevis Renal Society to mark World Kidney Day themed "Kidneys For Life: Stop Kidney Attack", Deputy Premier and Minister of Health on Nevis Hon. Mark Brantley told the people of Nevis that the onus was on all to ensure that kidney disease and the factors which caused it remained minimal.
He said on March 11, 2013, that he was reminded of the words of the newly appointed Director of the Pan American Health Organization Dr. Carissa Etienne that everyone had a powerful potential to create positive change in health and that improved health and access to health care, would transcend into stronger economies, more conducive societies and nations better able to integrate and compete in the global world.
"I implore the people of Nevis to reflect on these simple yet profound words as we take charge of our health not only during this week but throughout our lives. Our continued prosperity is entirely dependent on good health and productivity," he urged.
According to Mr. Brantley, the Nevis Renal Society reminded that one should love their kidneys and clearly, the maintenance of kidney health was the entire society's effort. He said the emotional and financial cost of kidney attack not only affected individuals and families but the entire society.
Notwithstanding, the Health Minister noted that the Ministry of Health continued to invest in prevention and health promotion and also in treatment services.
"Hemodialysis will be available in the Federation in the not too distant future but this is a very expensive venture. Hemodialysis alone costs around EC$1000 per secession x2 to 3 sessions per week x52 weeks per year for one patient for life… Such costs can barely be handled by a single person.
"I am advised that kidney transplantation is a more cost effective option and that efforts are moving to access this service at prices we can afford. I will make more information in that regard as soon as available," he said.
Meantime, with regard to this year's theme, the Health Minister stated that it brought into sharp focus the importance of prevention; the value of health promotion activities among them regular screen for diabetes and high blood pressure and the promotion of organ donation and transplantation.
He explained that it was relevant to Nevis, since kidney attack was caused mainly by diabetes, high blood pressure and alcoholism. There were 500 persons registered in the diabetes and high blood pressure clinics in community health centres around the island.
Mr. Brantley stated that the number of persons addicted to alcohol was unknown but the high consumption of alcohol on the island was well known and based on those two health risks a number of persons on the island developed kidney failure.
However, he reminded that the disease was preventable and could be treated if there was early detection. In that regard Mr. Brantley said the Ministry would continue to give the highest priority to the avoidance of health risks; health promotion outreach initiatives would be continued in schools, workplaces, community centres and faith based institutions.
"These initiatives will focus on healthy lifestyle practices including the consumption of healthy low salt diet; engagement in daily physical exercise such as walking for a minimum of 30 minutes and minimal or reduced consumption of alcohol," he said.