NEVLEC commissions MP36 2.5megawatt generating set at Prospect Power Plant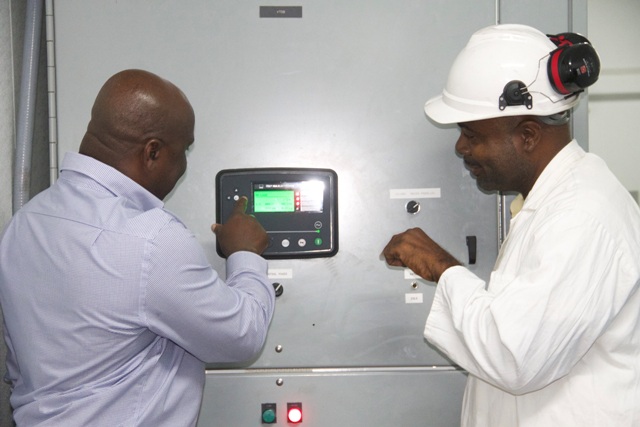 NIA CHARLESTOWN NEVIS (December 21, 2016) — The Nevis Electricity Company Limited (NEVLEC) commissioned a MP36 2.5megawatt generating set at its Prospect Power Station on December 21, 2016.
At a ceremony to mark the occasion, Acting General Manager Jervan Swanston said the containerised generator is a welcome break for the company and would provide greater flexibility, a reduction in down time, less dependability on the Four Seasons Resort and it would help to improve the company's finances.
"In 2015 alone, having generators going offline for lack of reserve capacity, we lost somewhere in the region of $740, 000. and up to August, when the decision was taken to purchase the engine, we were already at $644, 000," he said.
A thankful Swanston noted, that at times when the need would arise for additional capacity, NEVLEC would ask the Four Seasons Resort to go offline, switch to their own generators and they would oblige.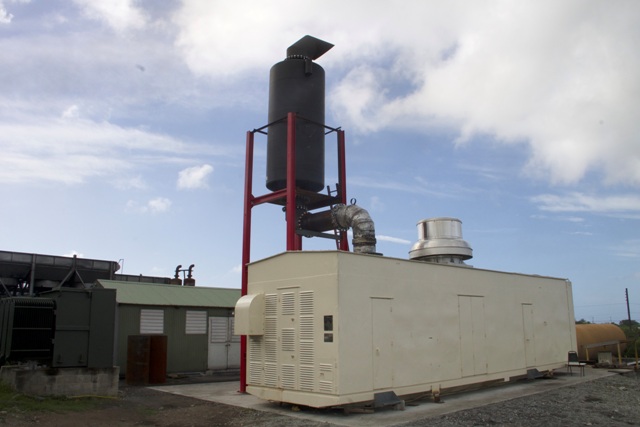 The Acting General Manager spoke to other reasons for obtaining the generating set, ahead of the purchase of an almost US$5million Wӓrtsilӓ 3.8 megawatt generator which is being manufactured and will be ready for installation by mid-2017.
"Our exhaust system that is in our present engine room, has deteriorated significantly and has now become a health hazard and so, by having this unit, it works as a short-term solution and that can allow us to do some much needed work," he said.
Swanston, also explained that when one set failed, they would lose about 1.5 to 2.5 megawatts of power which represents a large amount, considering the base load and would seek the Four Seasons Resort's assistance. There was also the high probability of a feeder breaking down.
He added, that major maintenance inspections for engines number 8, 7, 6, 5 and 4 during the first quarter of the company's budget year was another consideration.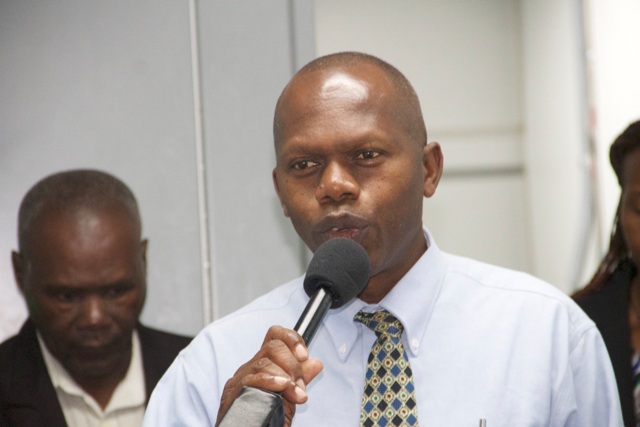 Also there was the issue of sourcing replacement parts for the aging generators, some of which have been installed at the power plant for over 30 years. The Acting General Manager said it meant that parts would have to be sourced overseas and fabrication would take 12 to 20 weeks because they were no longer kept in stock. They were also compelled to purchase more than one of the required part.
Swanston used the opportunity to thank management and staff of the Generation Department and singled out their hard work in getting the generating set ready for production, the Public Works Department for its assistance and Lefco Equipment Rental and Construction Co. Ltd. for placing the unit on the site.
Meantime, Chairman of the NEVLEC Board of Directors Hon. Farrell Smithen, said in brief remarks, the Board wants to ensure that all consumers on Nevis have a reliable power supply.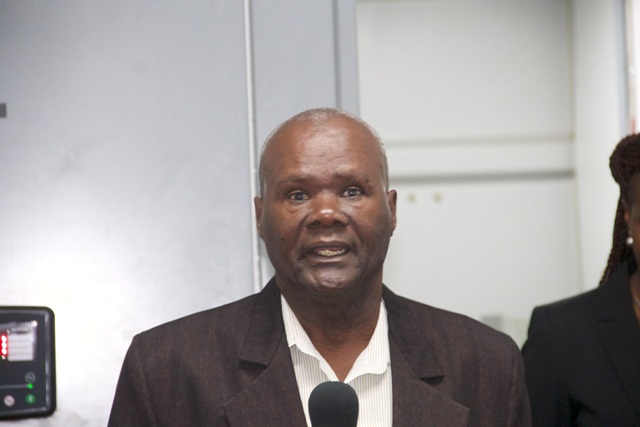 He said the company's recent investments in new equipment and staff training are all geared toward positioning NEVLEC to deal with the island's continued development.
"The island is moving, industries are coming on stream and they need electricity and all we have to do it to ensure that when they call on us, that we are able to deliver," he said.
Also present at the ceremony were Hon. Alexis Jeffers, Minister of Communications, Works and Public Utilities in the Nevis Island Administration, Generation Manager Earl Springette and Financial Controller Roma Hanley-Merchant. Transmission and Distribution Manager Ian Ward delivered a prayer and Generation Engineer Jonathan Kelly chaired the ceremony.