Training for Alexandra Hospital's staff is top priority, says Administrator Pemberton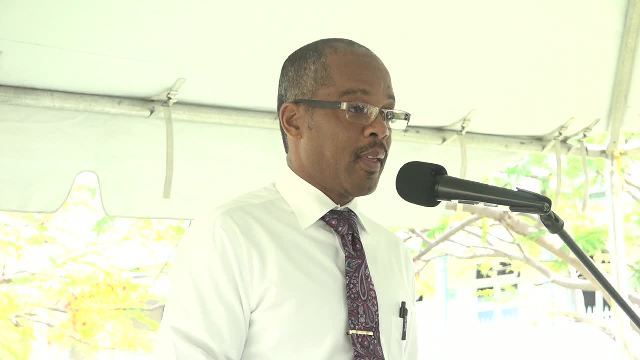 NIA CHARLESTOWN NEVIS (December 20, 2016) – Administrator at the Alexandra Hospital on Nevis Gary Pemberton, says the facility's human resource capacity is its greatest asset and, as such, staff training continues to be a priority.
He was at the time delivering a report on the hospital's performance at the Alexandra Hospital's Annual Christmas Programme on December 19, 2016, at the hospital's grounds.
Pemberton stated that earlier this year one staff member went to Cuba to pursue studies in Radiography and on completion would complement the existing staff.
At present, one nurse is pursuing a Masters in Nursing/Midwifery in Taiwan, while another returned to Nevis on completion of a six-week course in Respiratory Therapy. Two other nurses also received training in specialised care there.
He said the nursing staff continues to receive training in Trauma and Emergency Care, Respiratory Care and Midwifery. Two will shortly complete training in Midwifery.
Ministry of Health recently recruited the services of two nurses from St. Vincent.
However, the hospital administrator said training is also being offered to persons interested in becoming nursing assistants. He said they offer valuable support to nurses.
Pemberton said in addition, Dr. Raymond Rohan-Moving will return to the hospital in 2017 on completion of her studies as an internist and also two General Practitioners. Their return, he said would help to improve the services at the Out Patient Department.
The Administrator noted that there have been additions in specialised areas – Neuro-Surgeon Dr. Geoffrey Liburd, Cardiologist Dr. Kendall Griffith, and Dermatologist Dr. Debbie-Joy Huggins.
Their services are in addition to other specialised services offered in the areas of Obstetrics and Gynaecology (OB/GYN), Orthopaedic Paediatrics and Internist/Cardiology.
Regarding the support staff at the hospital, Pemberton said they also play a vital role in the delivery of health care at the facility.
He said they have been trying to strengthen the housekeeping staff for the provision of quality service, through new additions and in-service training.
Pemberton added that working hours of the Housekeeping Unit previously ended at 7 p.m. was recently extended to 10 p.m. in an effort to provide better support to the medical staff.
He said additional changes in other areas in 2017 as they seek to enhance the quality of service offered at the hospital.
Among those present at the event were Deputy Premier of Nevis and Minister of Health Hon. Mark Brantley, Permanent Secretary in the Ministry of Health Nicole Slack-Liburd, Medical Chief of Staff Dr. Cardell Rawlins, Medical Officer of Health Dr. Judy Nisbett, Matron Aldris Pemberton-Dias and Pastor Wayne Maynard