New Combermere Community Centre opens; residents urged to use resources to bring about lasting change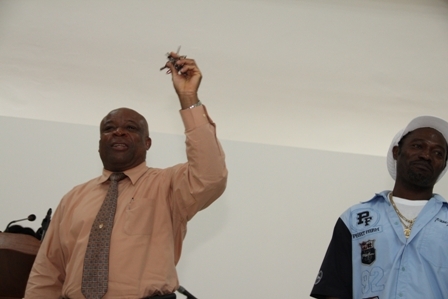 NIA-CHARLESTOWN NEVIS (February 01, 2012) —
Minister responsible for Social Development on Nevis Hon. Hensley Daniel urged residents of Combermere to look at the resources in their community and use them to bring about lasting change in the society.
He was at the time delivering remarks at the official opening of the Combermere Community Centre in the St. James Parish, the fourth new Centre to be commissioned by the Joseph Parry-led Nevis Island Administration in recent months. The Centre was opened under the patronage of Mr. Franklyn Browne a prominent Senior Citizen of Combermere Village.
According to Mr. Daniel, the opening of a community centre signalled the start of a new approach to life and represented a great opportunity for social and economic development as he pointed to the importance of self help.
"This Centre must facilitate efforts at self-help and self-reliance concepts that need to be kept alive in our community. Self-help recognises that the community can always do something. It recognises its strengths and capacities and commits to doing something to make the situation more malleable," he said.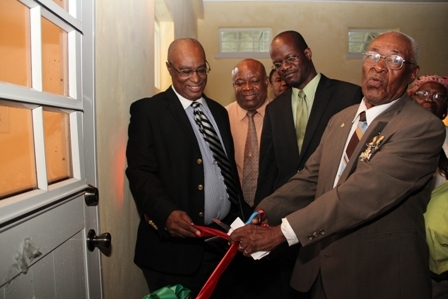 The Social Development Minister also told those present that if they agreed that social problems threatened the threads which wove them as a society then the construction of community centres to anchor intervention programmes for social upliftment should come as no surprise to them.
"If we agree that people matter, if we agree that much that we seek to accomplish will only happen through the free and enthusiastic participation of people, then here is your focal point for participation," he said.
Mr. Daniel also used the opportunity to list a number of programmes that would be available at the Centre. They include programmes in Skills Training, Education, Social, Leadership, Business and the Arts but impressed upon the need to move forward unhurriedly but steadfastly with their implementation.
"If we agree that community development relies upon local communities and attempts to combine internal and external resources, stimulates local initiatives and promotes the improvement of basic living conditions, let us take our time but walk fast to introduce the programmes because in the words of Murray Ross, co-operative and collaborative work requires people who can endure, welcome and move comfortably with diversity and tension," he adding that paths were made by walking.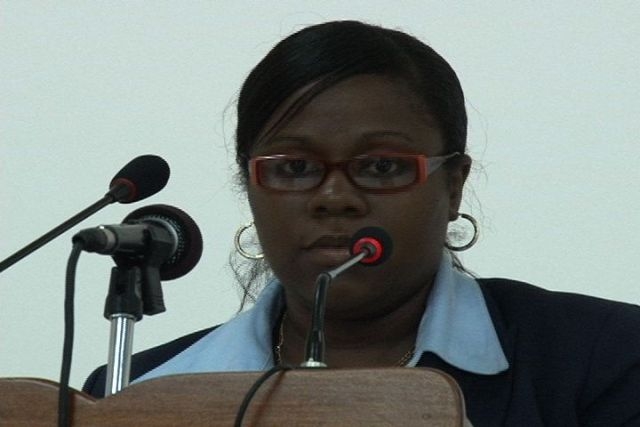 The Minister stated that the NIA had started walking and Caribbean Cable Communications (Nevis) Ltd. had joined the journey to provide complimentary internet services to Combermere Community Centre and all others across the island.
Meantime, the Company's Branch Manager Mrs. Trecia Daniel in brief remarks said her Company was not only a utility but was also committed to community development. She said they had given an undertaking to provide free internet service to ever single community centre in Nevis and had already given free Cable TV service to various schools on the island and more recently to the Police Barracks at Bath Plain, Cotton Ground and Butlers.
"As a responsible company we see it as our duty to commit our resources where possible towards the development of our people. It is now a truism that the most important resource for any small country is our human resource and Caribbean Cable Communications wants to play a role in that. As such we have decided to provide complimentary wi-fi internet service to this community centre.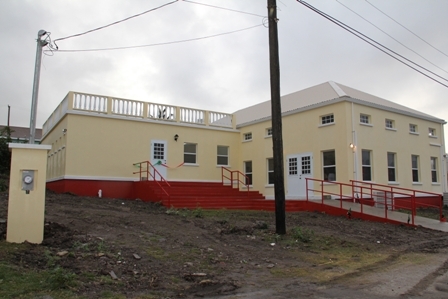 "We want to know that everyone whether it be the little eight year old boy who needs the internet to do his homework or the eighty year old grandmother who wants to log on to YouTube to find out the best way to play steel pan to be able to surf the internet right here at the community centre," she said.
According to Mrs. Daniel, the service would also be available to student study groups for Caribbean Examination Council (CXC) exams and single parents interested in learning a skill all because CCC stood for more than Caribbean Cable Communications. "It is because CCC stands for Caribbean Cable Cares."
However Mrs. Daniel urged residents to use the internet wisely and cautioned that the service was not provided for the use of any outrageous purpose. She stated that the service should be used for them to become some of the most outstanding people in Combermere and by extension Nevis.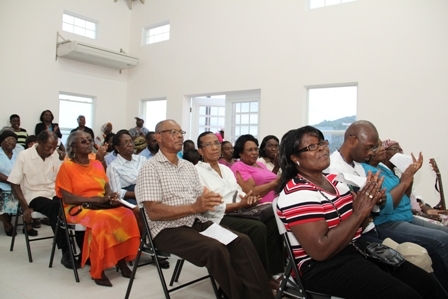 "The wiser you use it the more we at Caribbean Cable will find ways to care for the community we love and serve. I wish to take this opportunity to thank the NIA and you the good people of Combermere for affording us another opportunity to bring the world to you," she concluded.